Vauxhall Mokka-e vs Kia e-Niro: running costs and warranty
While both cars are relatively cheap to run, the Kia edges ahead thanks to its better efficiency and more comprehensive warranty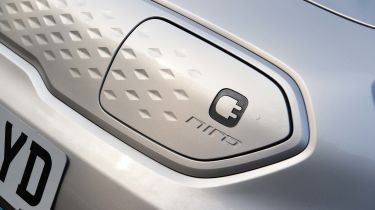 When it comes to low running costs, nothing really beats a fully electric car, and the Mokka-e and e-Niro are prime examples of that.
Both attract a 1% Benefit-in-Kind (BiK) company-car tax rate in the current financial year, meaning 20% taxpayers only pay from £66 a year. Both cars are also currently exempt from road tax (VED) and if you travel into central London frequently, they won't be liable for the Congestion Charge until 2025, either.
Likewise, if you're able to recharge from a home wallbox charger on a 13p per kilowatt-hour energy tariff, you can expect to pay around £667 for every 20,000 miles driven in the Vauxhall. For reference, we calculated that a 1.2-litre petrol Mokka would cost £2,944 to refuel over the same distance. However, the e-Niro is even cheaper. Thanks to its exceptional efficiency, covering the same distance in the Kia will cost around £542.
Insurance groups for both cars depend on which trim level you select: the Kia we tested would sit in group 20, while the Vauxhall falls into group 21. However, those are the entry-level models; if you go for higher-spec versions, then the Mokka-e can attract a group 23 rating at most, while the top-of-the-range e-Niro is in group 27.
There's a seven-year/100,000-mile warranty as standard with the e-Niro, which really goes to show the brand's confidence in its car. Meanwhile the Mokka-e comes with a three-year/60,000-mile warranty, which isn't as lengthy as the Kia's, but on par with its Stellantis Group siblings and other, more affordable, electric cars.
Kia finished second in the 2020 Driver Power survey ranking of manufacturers, being beaten only by Lexus. Even on the rare occasion where owners need to visit a dealer, the story remains positive; Kia was seventh-best here. In contrast, Vauxhall finished a lowly 29th overall, although its 10th-place result for dealer experience is pretty good for a mainstream, high-volume brand.