Fiat 500 vs MINI Electric vs Honda e: range and charging
The Fiat reigns supreme in this area, with a 199-mile range and 85kW rapid-charging capability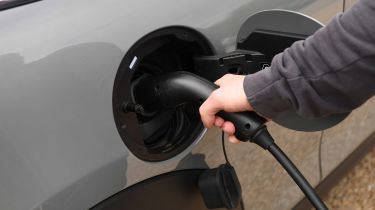 Certain electric cars are capable of covering upwards of 400 miles on a single charge thanks to having enormous batteries. Whereas the trio of electric superminis we're testing here feature much smaller batteries, similar to those offered in the original Nissan Leaf.
The MINI Electric and Honda e are only available with one battery size. In the MINI's case, it's a 32.6kWh unit, which on a full charge should allow you to cover around 140 to 145 miles. Similarly, despite its larger 35.5kWh battery, the Honda has a 131 to 137-mile range. During our testing, both had an estimated range of closer to 100 miles, although a figure like that is still suitable for shorter commutes, school runs and journeys into town.
The Fiat 500, meanwhile, offers a choice of two battery sizes – 24 or 42kWh – with all but the entry-level version getting the larger of the two. This Action model with the 24kWh battery is capable of just 115 miles on a charge, however those with the 42kWh have a claimed range of 199 miles.
Like the other two cars, though, the Fiat's real-world range fell short of the official claims; our example estimated 168 miles in Normal mode on a full charge. Switching to Range mode will add a couple of miles to that figure, but you need to go into Sherpa mode (which cuts power quite significantly and limits top speed to 50mph) if you want to get a 180-mile or more range.
Charging
Rapid charging is pretty much a standard feature of most modern electric cars. But the MINI Electric has a rather pedestrian maximum speed of 50kW – the slowest of the three cars here. While none of them reaches Tesla Supercharger speeds, higher-spec Fiat 500s like the one we tested at least stretch to 85kW, but the entry-level can only charge at up to 50kW. The Honda e outdoes them all, with 100kW recharging possible.
But those maximum charging speeds don't necessarily matter in the real world, given that all three cars have relatively small batteries. For example, you can replenish both the Fiat and MINI from empty to 80% in 35 minutes if you find a fast enough charger, and while the Honda's 100kW system is slightly quicker, a zero to 80% top-up takes only five minutes less.
Most buyers will be more concerned about charging times at the lower rates of a home wallbox or supermarket car-park charger. Fiat hasn't released estimated charging times for the 500 at 7.4kW – the fastest speed you'll see from the majority of UK domestic electricity setups. But the Italian brand does claim you can fully recharge the 500 in four hours and 15 minutes using an 11kW charger, so we expect it'll take six or seven hours to top up the 42kWh model using a regular home wallbox.
The MINI Electric should take just under five hours to recharge from a 7.4kW wallbox, while the Honda's slightly slower on-board charger means its actual speed tops out at 6.6kW, so it'll take just over five hours to do the same. The main thing is that all three cars can easily be recharged fully overnight during the hours when reduced electricity tariffs usually apply.