Fiat 500 vs MINI Electric vs Honda e: interior and infotainment
Nothing can match the Honda e's barrage of screens and unique interior design, but the Fiat isn't far behind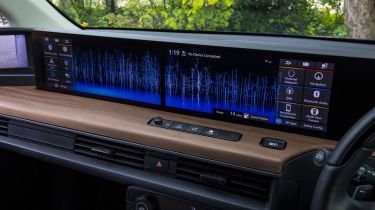 Each of these retro-inspired cars takes a very different approach when it comes to their interior. The Fiat's cabin features a body-coloured dashboard panel, inspired by the original 500 from the '60s. But that's where the similarities end. Our test car featured a pair of screens: a 10.25-inch information touchscreen and a seven-inch digital driver's display.
Mid-range Passion trim only gets a seven-inch infotainment screen, however, and the entry-level Action simply gets a smartphone cradle. Top-spec cars like ours also offer 'Level 2' autonomous driving ability, which means they can accelerate, brake and steer themselves to stay in lane on a motorway or dual-carriageway. 
What's less impressive is the lack of height adjustment for the Fiat's front seats, which may leave some drivers feeling like they're perched too high up. The steering column has a huge range of travel though, so if you're happy with the fixed height of the seat, you should be able to get comfortable. 
The MINI's interior is practically identical to that of its petrol-powered sibling and is dominated by a central eight-inch infotainment touchscreen with toggle switches and dials for the climate control below. All MINI Electrics also get a set of digital dials, which are attached to the steering column, so they're always perfectly positioned no matter your driving position.
The MINI's interior overall feels solid and stands above the other two in terms of quality. The facelifted 2021 model received some tweaks inside to boot, including new steering-wheel-mounted buttons. Annoyingly, though, these new buttons can be easily pressed by accident when you're holding the wheel.
However, if you want an interior that truly impresses, the Honda e's cabin design is unlike anything else. Like the MINI, its interior is dominated by screens, but in the case of the Honda, there are a total of five displays in an array that stretches across the entire dashboard. The first is a digital driver's display, with another two units used for infotainment. Those are flanked by two smaller screens that display the feed from the cameras that take the place of door mirrors.
Despite the multitude of pixels in front of you, forward visibility is good. Plus, as the Honda sits on a dedicated electric-car platform, there's a flat floor and overall the interior feels very spacious. Yes, the wood trim is fake, but it has been applied tastefully, and the fabric upholstery used for the seat and door trim feels expensive and a worthy alternative to the typical leather – which is not available in the eco-friendly Honda e.