Fiat 500 vs MINI Electric vs Honda e: verdict and specifications
It's each to their own when it comes to the styling and interiors of these cars, but the Fiat comes out on top thanks to its value for money, longer range and technology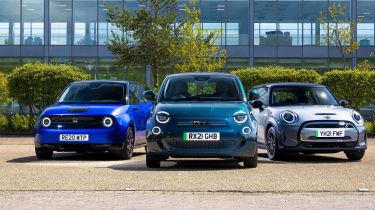 1st: Fiat 500 – 4.5 /5
The newest version of the Fiat that kicked off the city-car craze has moved the game on once again. Not only does it match the technology and style of its rivals, it also has a significantly longer real-world range, which means it's usable when you venture out of the city streets. Overall, the electric 500 is an appealing package that represents brilliant value for money, which not only makes it the worthy winner of this contest, but also one of the best electric cars you can buy right now, full stop. Read our full review for more.
2nd: Honda e – 4.5 /5
When viewed solely as a city car, the Honda ticks all the right boxes. Manoeuvrability is unmatched – not even by a London black cab – while its cabin is crammed with screens and technology, as well as being very spacious. Then there's the head-turning looks, which have the potential to overshadow any supercar you park next to. But all that comes at a price, and a hefty one at that. When compared to the less expensive Fiat, with its greater range, the Honda just isn't as good value. Read our full review for more.
3rd: MINI Electric – 3.5 /5
The MINI Electric does a tremendous job of feeling as sporty to drive as any of its combustion-engined siblings, as well as retaining their excellent and endearing styling, inside and out. However, its short real-world range and sparse standard equipment, especially on the entry-level model, mean it simply isn't good enough value for money when compared with its rivals. Read our full review for more.
Specifications
| Car | Fiat 500 Icon | Honda e Advance | MINI Electric Level 1 |
| --- | --- | --- | --- |
| List price / price as tested | £25,495 / £29,325 | £30,715 / £31,265 | £26,000 / £26,000 |
| Engine | Single electric motor | Single electric motor | Single electric motor |
| Transmission | Single-speed, front-wheel drive | Single-speed, front-wheel drive | Single-speed, front-wheel drive |
| Battery capacity (total / usable) | 42.0 / 37.3kWh | 35.5 / 28.5kWh | 32.6 / 28.9kWh |
| Power / torque | 161bhp / 220Nm | 152bhp / 315Nm | 181bhp / 270Nm |
| 0-62mph | 9.0 seconds | 8.3 seconds | 7.3 seconds |
| Top speed | 93mph | 90mph | 93mph |
| Annual electricity cost (12k / 20k miles) | £391 / £652 | £411 / £684 | £433 / £722 |
| Charge time (socket / wallbox / rapid) | 15h15m / 4h15m / 35m | 18h48m / 4h6m / 31m | 12h / 3h12m / 36m |
| Official range | 199 miles | 137 miles | 140-145 miles |
| On-test efficiency / range | 4.0m/kWh / 168 miles | 3.8m/kWh / 108 miles | 3.6m/kWh / 104 miles |
| Road tax / 2021/22 BiK rate  | £0 / 1% | £0 / 1% | £0 / 1% |
| Length / width / height / wheelbase | 3,623 / 1,900 / 1,527 / 2,322mm | 3,894 / 1,752 / 1,512 / 2,538mm | 3,845 / 1,727 / 1,432 / 2,495mm |
| Boot capacity (seats up) | 185 Iitres | 171 Iitres | 211 Iitres |