Fiat 500 vs MINI Electric vs Honda e: space and practicality
The MINI has the largest boot, but Honda's cleverly designed cabin features plenty of storage and its central charging point is more convenient than the others'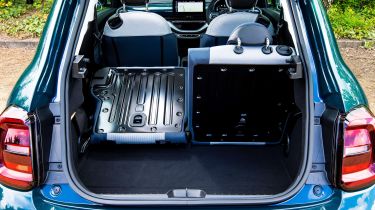 All three of these cars have four rather than five seats, which is unsurprising given how cosy sitting in the back feels. The Honda has two big advantages over the competition in this test, though: it offers the most space and legroom for rear-seat passengers, as well as being the only one with five doors, making it easier to get in and out of the back seats in the first place.
Passengers in the back of the MINI may find it more cramped than the Honda, however it's more accommodating than the Fiat. Plus, the MINI's rear seats are quite bolstered, and once passengers are settled in, they're pretty comfortable and supportive.
Of the three, the Fiat offers the least amount of room in the rear, as it's more than 200mm shorter than the already-compact MINI. That means any passengers back there will likely feel very cramped, as they'll have their knees pressed firmly against the back of the front seats. The 500 also has the least headroom of the three.
The Fiat's 185-litre boot is larger than the 171 litres on offer in the Honda, but still less than the MINI's 211-litre capacity. Interior storage in the Fiat is also good and better than what's on offer in the MINI – although not as smartly designed as the cubbies found throughout the Honda's cabin. Storage is generous and well thought-out in the Honda, with three big cubbies in the centre console, a pull-out cup-holder and a pouch for smartphones. Passengers in the rear also get a small bottle holder in the doors.
In the MINI, you'll find cubby spaces including a smartphone shelf that may not be able to accommodate the largest devices out there. The MINI also features slim doorbins and a pair of fairly shallow cup-holders ahead of the drive mode selector.
Interestingly, both the MINI and Fiat's charging ports are located in the rear-three quarter panel – much like the fuel filler cap in most combustion-powered cars. The Honda's is set in the centre of the bonnet, like the Renault ZOE's, and this means you don't have to worry about reversing into parking spaces or your driveway in order to access the charging port.