Triple test: Fiat 500 vs MINI Electric vs Honda e
We pit the hottest retro-inspired electric superminis from MINI, Honda and Fiat against one another to see which is best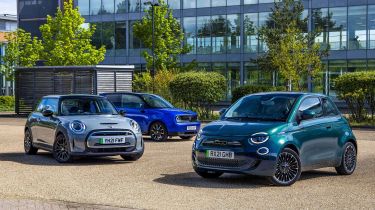 Brands borrowing from their heritage or redesigning their most iconic models for the modern day is hardly a new trend. But now, some of the most popular, most eye-catching and arguably most interesting electric models on the market are these retro-inspired small cars that have truly captured our imaginations.
Yet these models can't only be good at garnering likes on social media or posing on your driveway. They have to work as useable everyday electric cars, too. So, while we await the arrival of the reborn electric Renault 5 and Volkswagen ID.Buzz to further expand this category, we're pitting three of the hottest retro-inspired electric superminis – from Honda, Fiat and MINI – against one another to see if any are worth the premium price tag that their technology and style command.
Honda e
Pros: Looks, interior, manoeuvrability
Cons: Range, price, small boot
Fiat 500
Pros: Range, handling, value for money
Cons: Price, interior quality, base model poorly equipped
MINI Electric
Pros: Sharp handling, healthy performance, as practical as petrol
Cons: Standard equipment, limited range, no five-door
Looking at the list of pros and cons for the three cars in this test, each seems to take a different approach when it comes to justifying its near-£30,000 price tag. The MINI is clearly aimed at those looking for the go-kart driving experience its petrol-powered counterpart is famed for. The Honda, on the other hand, has a technology-centric philosophy, with styling to make millennials swoon, while the Fiat adds more usable range to its appealing city-car package. Read on to find out which of these stylish electric superminis comes out on top...