Polestar 2 vs Tesla Model 3: verdict and specifications
It's a close fight, but the Model 3 just edges the Polestar as a package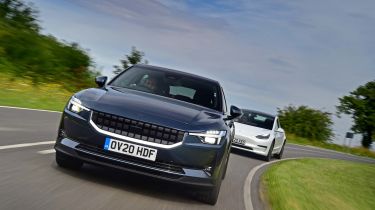 There's a lot to like about each of these cars; both are on the cutting edge of electric-car technology and have desirability, performance and that minimalist cool factor on their side. Each is a remarkably versatile family-car proposition, with strong real-world range and lots of space; the Polestar is the sportier choice, the Tesla more relaxed in its demeanour. Deciding a winner comes down to the details, and when you do this the Model 3 presents the more complete package. However, the Polestar 2 is the most convincing rival yet for the smallest Tesla – and we look forward to seeing how it improves over the coming years.
1st: Tesla Model 3 – 5.0 stars
Fast, efficient and technologically advanced, the Tesla Model 3 represents everything that's good about the disruptive American brand. It just edges its Polestar rival in some important areas, not least range and overall comfort; the fact that it's a bit more spacious and practical is the deciding factor.
2nd: Polestar 2 – 4.0 stars
A fantastic effort from a young brand, the Polestar 2 is a deeply desirable car that runs the Tesla very close in most areas. We prefer its quality interior and sportier, more engaging driving experience, but it's a little slower than the Model 3 and can't go quite as far on a charge. Overall, though, it's impressive and well worth a test drive for those considering a Tesla. 
Specifications
| Car | Tesla Model 3 Performance | Polestar 2 Performance Pack |
| --- | --- | --- |
| List price | £56,490 | £51,900 |
| Engine | Two electric motors | Two electric motors |
| Transmission | Single-speed auto, four-wheel drive | Single-speed auto, four-wheel drive |
| Battery capacity (total / usable) | 75 / 72.5kWh | 78 / 72.5kWh |
| Power / torque | 483bhp / 660Nm | 402bhp / 660Nm |
| 0-60mph | 3.2 seconds | 4.7 seconds |
| Top speed | 162mph | 127mph |
| 100% charge cost at 14p/kWh | £10.44 | £10.44 |
| Charging capability | 3.7 / 7.4 / 11 / 50 / 175 / 250kW | 2.3 / 7.4 / 11 / 50 / 150kW |
| Charge times | 37h 15m / 11h 45m / 7h 45m / 73m / 29m / 15m | 37h 15m / 23h 15m / 11h 45m / 7h 45m / 64m / 27m |
| Official electric range | 329 miles | 292 miles |
| On-test electric range | 261 miles | 232 miles |
| Road tax / BiK rate  | £0 / 0% | £0 / 0% |
| Length / width / height / wheelbase | 4,694 / 1,933 / 1,443 / 2,875mm | 4,607  / 1,950 / 1,478 / 2,735mm |
| Boot capacity (seats up) | 410 Iitres | 370 litres |