Twin test: Polestar 2 vs Tesla Model 3
The Tesla Model 3 is the best pure-electric executive car right now. Does the Polestar 2 have what it takes to knock it off its perch?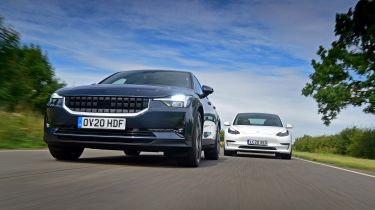 There's no denying Tesla's hold on the market it helped to create: the Model 3 was the first fully electric mid-sized executive car and has proved a massive success, taking the fight to established internal-combustion rivals like the BMW 3 Series and forcing mainstream manufacturers to play catch-up.
The first major manufacturer to challenge the Model 3's dominance is Volvo, with its electrified Scandi-cool spinoff Polestar. The brand laid out its stall with the ultra-exclusive plug-in hybrid Polestar 1, but the Polestar 2 represents its first major step into the mainstream, with sights set firmly on its US rival.
Polestar has worked hard to develop a package that aims to match or better its rival in key areas; the result is a face-off that's far closer-fought than you may expect. With the benchmark set, Polestar has to match a number of clear goals if the 2 is to be successful.
Polestar 2 Performance Pack
Pros: Strong infotainment, great to drive, sharp looks
Cons: Loses out on space, slightly firm ride, shorter range
Tesla Model 3 Performance
Pros: Huge performance, great technology, cheap to run
Cons: Polestar sharper to drive, more expensive to buy, average interior plastics
Both cars hit all the right notes when it comes to desirability, performance and internal-combustion-rivalling range – but we needed to spend some time with both back-to-back on UK roads to see if the Polestar has what it takes to topple the Tesla.
Read on to see how this head-to-head played out...