Polestar 2 vs Tesla Model 3: space and practicality
The Polestar looks bigger, but is actually slightly less practical than the well packaged Tesla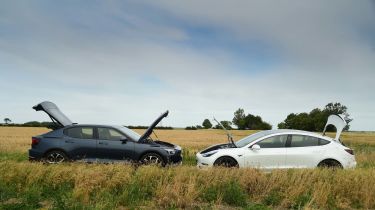 While many of those sold will enter service as company cars, each of these electric offerings is intended as a capable family car, too. That means space for five, a big boot and comfort for adults and children alike is required.
Despite its size advantage and pseudo-SUV looks, the Polestar 2 trails the Model 3 ever so slightly when it comes to rear seat and boot space. The car's flatter roofline looks more sensible than the Tesla's more curvaceous offering, but inside there's actually less headroom for rear-seat occupants in the Polestar. It's a similar story for rear-seat legroom, too, but the Polestar is still best described as offering plenty of space. 
The Tesla has more space in the back, with the added benefit of a flat floor, as opposed to the Polestar's transmission-tunnel intrusion – an internal-combustion hangover from its shared platform. The Tesla feels a little airier in the back, too, although both cars come as standard with a panoramic glass roof.
The battle of boot space is won by Tesla: 440 litres plays 425, although that figure is a total for both the front and rear compartments. It uses a conventional saloon bootlid  – a little less flexible than the Polestar's hatchback – but its opening is wide and tall enough to be useful. Charging cables can be stored easily either up front or under the boot floor in either model, while the Polestar adds a useful flip-up load divider to the mix.