Polestar 2 vs Tesla Model 3: performance and handling
The Polestar is sharper to drive despite its weight; Tesla takes a softer-edged approach and is quicker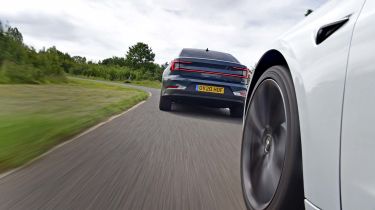 Polestar is a brand with a sporting slant and the required engineering clout to pull it off. The 2 is the nicer car to drive of the pair, with steering that perfectly suits its setup and feeds back information better than the Model 3's. The Polestar 2 feels well balanced and has lots of grip, while the Performance Pack's trick adjustable Ohlins shock absorbers provide impressive body control and a well damped ride.
The Performance Pack's dampers are a unique feature on a family-orientated executive car such as this: as with so many track cars, they're manually adjustable, but here they're not easily accessed. As standard, they err on the firm side of comfortable; it's not brittle or harsh, but some may wish to back them off a little.  
There's no such concern with the Model 3, which rides far more softly than its rival. Its suspension soaks up bumps in a more subdued manner – albeit with a little more noise than the Polestar – but overall there's not the same feeling of composure. This soft setup means there's a bit more body roll, too, and it feels a little at odds with the Model 3's quick steering, which can upset things if you don't drive smoothly. There are huge reserves of grip and traction, however.
When it comes to outright performance, the Model 3 has the Polestar licked. In Performance guise, the car rockets to 60mph from a standstill in just 3.2 seconds; acceleration is linear and unrelenting. There's more mid-range punch than you get in the Polestar, too. 
Not that the Polestar is slow – it'll easily keep up with some very fast conventional cars. It takes 4.7 seconds to get to 60mph, while the instant availability of torque and acceleration at any speed is still very impressive. A small point of contention is that while the Tesla's throttle pedal allows for more progressive applications of power at lower speeds, the Polestar is a little harder to modulate around town.