MINI Electric vs Renault ZOE: verdict and specifications
Both of these are great small electric cars, but the Renault ZOE is a more complete package than the MINI Electric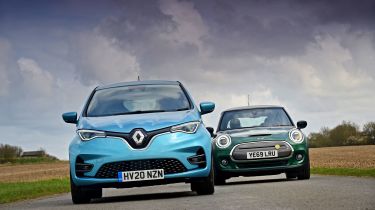 Crowning a winner in this test would be much more difficult if there weren't such a large disparity in range and practicality between the two.
The Renault is slightly more expensive, but it's hard to argue with its larger boot, better rear-seat access and much more practical range. The MINI is more fun to drive and has brand cachet on its side, but it's best reserved for those who don't need their electric car to do much more than a week's worth of inner-city commuting or shopping on a single charge.
1st: Renault ZOE – 4.5 stars
It's the more expensive of these two cars, but the ZOE gets more equipment, more doors, more space for passengers and luggage, and, crucially, many more miles from a single charge. The Renault is the more comfortable of the two, but it lacks the MINI's sharp handling and overall fun factor. Having to pay extra for fast-charging is a disappointment – and there's not the same scope for customisation at order time – but the ZOE is the better all-rounder nonetheless.
2nd: MINI Electric – 3.5 stars
The MINI has style, fun and driving dynamics on its side – it's fast, poised and a joy to travel in. It's not uncomfortable by any means and it's hard to argue with the appeal of its image, styling and customisation options. However, electric cars are all about range and that's where the MINI Electric falls short, literally. Our tests revealed a real-world range of barely more than 100 miles, which means the MINI is best suited to those living in an urban setting or undertaking shorter daily trips. Ultimately, the ZOE is the more flexible choice.
Specifications
| Car | MINI Electric Level 2 | Renault ZOE i GT Line R135 Z.E. 50 |
| --- | --- | --- |
| List price | £26,900 | £29,695 |
| Monthly finance (PCP) | £385.78* | £353** |
| Engine | Electric motor | Electric motor |
| Transmission | Single-gear, front-wheel drive | Single-gear, front-wheel drive |
| Battery capacity (total / usable) | 32.6 / 28.9kWh | 55 / 52kWh |
| Power / torque | 181bhp / 270Nm | 133bhp / 245Nm |
| 0-60 / 30-70mph | 6.7 / 5.5 seconds | 5.3 / 4.8 seconds |
| Top speed | 93mph | 87mph |
| Braking 70-0 / 60-0 / 30-0mph | 47.8 / 35.7 / 9.7 metres | 48.4 / 35.4 / 9.8 metres |
| 100% charge cost at 14p/kWh | £4.05 | £7.28 |
| Charge time (wallbox / rapid) | 4hrs 12mins / 35mins | 9hrs 25mins / 1hr 10mins |
| On-test electric range | 104 miles | 192 miles |
| Road tax / BiK rate  | £0 / 0% | £0 / 0% |
| Length / width / height / wheelbase | 3,845 / 1,727 / 1,432 / 2,495mm | 4,087 / 1,787 / 1,562 / 2,588mm |
| Boot capacity (seats up) | 211 / 731 litres | 338 / 1,225 litres |
*PCP estimate, based on £2,000 deposit, 48-month contract and 8,000-mile annual allowance **PCP estimate, based on £2,000 deposit, 49-month contract. Mileage limit not specified