MINI Electric vs Renault ZOE: performance and handling
The MINI Electric is the more fun to drive of this pair, although the Renault ZOE is more comfortable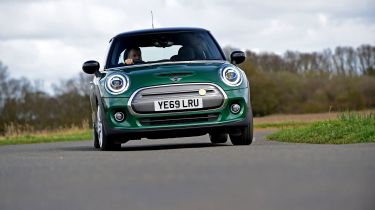 The Renault ZOE and MINI Electric are both great to drive, albeit in different ways. Where the MINI is focused on keeping within the sporty parameters of its brand, the ZOE is geared towards comfort; its soft suspension is pliant and does a great job of soaking up the worst lumps and bumps around town.
The softer setting means the ZOE rolls more through corners than the MINI, but it remains comfortable. The Renault has light steering that makes it easy to park and thread through tight spots around town – arguably more important than outright sportiness when it comes to small electric cars.
The ZOE may not be the sharpest from a handling standpoint, but its performance certainly isn't lacking. As with all the best electric cars, there's instant torque available from a standstill; its 3.2-second 0-30mph time in our tests was only three tenths slower than the MINI. This impressive acceleration starts to drop off at higher speeds – the MINI is faster to 60mph, for example – but the Renault still feels eager in its natural urban environment. It seems far quicker than an equivalent petrol-powered supermini.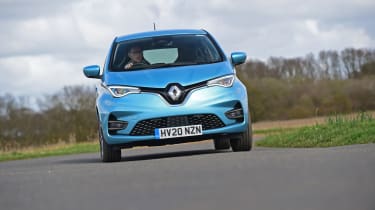 The MINI, in contrast to the Renault, feels poised and sporty just like its petrol-powered counterparts. The MINI Electric carries more weight, however, and this is most noticeable on faster roads. It's still the sharper of these two to drive, however: fast, precise steering, larger reserves of grip and firmer suspension help put the MINI ahead of the Renault in the driver-enjoyment stakes. 
Performance is punchier, too: 0-60mph in our tests took just 6.7 seconds, versus 9.2 seconds for the ZOE. The traffic-light-dash 0-30mph time was quicker too, at just 2.9 seconds. Top speed – largely irrelevant for cars like these – is also higher: 93mph for the MINI versus 87mph for the Renault.
Despite its sporty bias, the MINI is still comfortable – more so than a petrol-powered Cooper in our opinion. However, if comfort is a priority, the ZOE is the better choice. Both cars are remarkably refined at higher speeds, though.