Hyundai Ioniq Hybrid vs Toyota Prius Hybrid: verdict and specifications
Overall, the Prius is a better car than the Ioniq – but the Hyundai has its strengths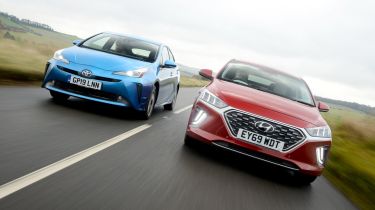 Of these two hybrid family cars, the Toyota Prius is the best choice. Of the pair it's the best to drive, most comfortable and has the most space inside, and while it can be relatively expensive to buy, it'll hold its value better and cost less to fuel. The Hyundai Ioniq is still a good car, however, and while it trails its Japanese rival in a few areas, it has a better-quality interior and a far more up-to-date infotainment system.
1st: Toyota Prius Business Edition Plus AWD – 4.0 stars
Toyota has perfected its hybrid recipe with the current Prius – its popularity is well deserved. We could do without the four-wheel drive on this top-of-the-line car, but otherwise it's a great package. It's well equipped, spacious, practical and is much more fun from behind the wheel than the Ioniq. Only its poor infotainment and seemingly pointless four-wheel drive let it down.
2nd: Hyundai Ioniq Hybrid Premium SE – 3.5 stars
The Hyundai Ioniq Hybrid just can't quite match the Prius' all-round excellence. It's very well built, boasts a nicer, more up-to-date interior and is easy to drive, but it lacks the final degree of refinement, comfort and practicality that are important in cars like this. Crucially, it's not as efficient as the Prius, either, and while it's cheaper to buy, it can't compete with the Prius' remarkable residual values
Specifications
| Car | Hyundai Ioniq Hybrid Premium SE | Toyota Prius Business Edition Plus AWD |
| --- | --- | --- |
| List price | £26,995 | £28,970 |
| Engine | 1.6-litre petrol + electric motor | 1.8-litre petrol + 2 electric motors |
| Transmission | Six-speed dual-clutch automatic, front-wheel drive | CVT, four-wheel drive |
| Battery capacity | 1.56kWh | 1.31kWh |
| Power / torque | 139bhp / 147Nm | 120bhp / 142Nm |
| 0-60 / 30-70mph | 9.8 / 5.4 seconds | 10.6 / 6.4 seconds |
| Top speed | 115mph | 111mph |
| Official MPG / CO2 emissions | 61.4mpg / 102-105g/km | 60.1-61.4mpg / 104-107g/km |
| On-test MPG | 51.3mpg | 63.3mpg |
| Road tax / BiK rate  | £140 / 24% | £140 / 24% |
| Length / width / height / wheelbase | 4,470 / 1,820 / 1,450 / 2,700mm | 4,575 / 1,760 / 1,470 / 2700mm |
| Boot capacity (seats up) | 443 / 1,505 Iitres | 457 / 1,588 litres |