Hyundai Ioniq Hybrid vs Toyota Prius Hybrid: fuel economy and CO2 emissions
The Toyota is more efficient than the Hyundai, but neither can travel on electric power alone for very long
Both on paper and in our tests, the Hyundai Ioniq lagged behind the Toyota Prius in the fuel-economy department. Hyundai claims an official average figure of 61.4mpg, while our test figure came in at 51.3mpg over a mix of driving.
In contrast, the Prius' on-test 63.3mpg is significantly better – and closer to its claimed 60.1-61.4mpg figures.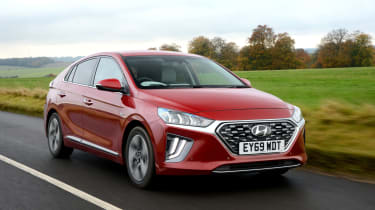 Over the course of a year and 12,000 miles, the Prius will cost £1,102 to fuel, with fill-ups costing around £55. The Ioniq will cost £1,360 over the same period with £58 fill-ups – and we think a saving of well over £200 a year is significant enough to affect a buying decision, especially in this segment.
However, it's worth remembering that the Ioniq is much cheaper to buy than the Prius, at least in this pairing – although we'd recommend the front-wheel-drive Prius, which will still prove cheaper to fuel than the Ioniq.