Hyundai Ioniq Hybrid vs Toyota Prius Hybrid: performance and handling
Both are good to drive, but the Toyota Prius rides better and has a better-resolved drivetrain than the Hyundai Ioniq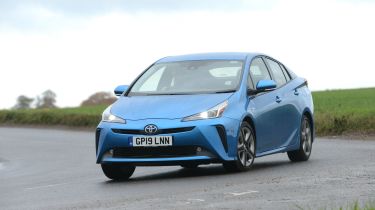 Toyota's expertise in the field shines through in the Prius – it's one of the best hybrids around to drive and its drivetrain is smooth in operation. Power comes from a 1.8-litre petrol engine linked to a pair of electric motors, one on each axle in the case of this all-wheel-drive model. Total power is 121bhp and there's enough performance on tap for everyday motoring – it's not the quickest car in the world, as our 10.6-second 0-60mph measurement confirmed, but it's not frustratingly slow.
The Ioniq uses a 1.6-litre petrol engine with one electric motor, connected to a 1.56kWh battery. Performance is marginally sprightlier than the Prius', with a 9.8-second 0-60mph time and slightly faster times in our 30-50mph and 50-70mph tests. However, you're unlikely to notice the differences in day-to-day running, especially if you spend a lot of time in town; outright straight-line performance is almost a moot point in cars like this.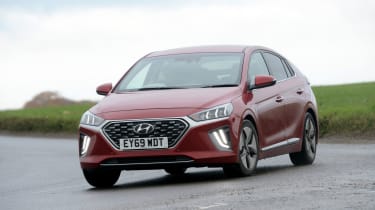 Neither is a sports car, but each handles well through corners. The Prius benefits from well weighted steering, plenty of grip and suspension that's more pliant than the Hyundai's; it's more comfortable and is less likely to be upset by mid-corner lumps and bumps. That's not to say the Ioniq is bad to drive – its chassis is composed and it's capable overall, but there's a lack of feedback through the steering. It's easy to drive rather than fun. 
One important distinction between this pair is their gearboxes. The Toyota uses a continuously variable transmission (CVT), which technically doesn't have fixed ratios; it improves efficiency and provides smooth power delivery, but you'll have to get used to the odd sensation of engine revs not matching forward progress. The Ioniq uses a more conventional dual-clutch automatic gearbox and so feels more natural to drive.
Electric power on both cars is reserved for lower speeds; both cars manage to switch between power sources quickly and more or less when you'd want them to. The Prius' drivetrain feels more refined and well resolved overall. However, the Prius has the Ioniq beaten for refinement – the Hyundai's engine is a little noisier. Both cars are adequately comfortable and relaxing on a long journey, however.