Twin test: BMW 530e M Sport vs Mercedes E 300 e AMG Line Premium
It doesn't get more established in the executive-car class than the BMW 5 Series and Mercedes E-Class, so which petrol plug-in hybrid is best?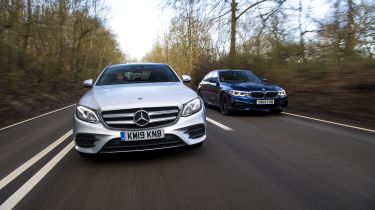 When it comes to large executive cars, the BMW 5 Series and Mercedes E-Class are the heavyweights. They bring heritage, technology and general brand lustre in equal measure, so you'd be right to expect big things from the plug-in hybrid variants.
After all, a top-notch business express with official pure-electric running of over 30 miles, a potent petrol engine to keep you going thereafter, and huge company-car tax savings over diesel alternatives seems almost too good to be true.
Well, it's not. For many motorists – particularly business users, or any buyer that routinely commutes into London and would benefit from Congestion Charge exemption – the plug-in hybrid BMW 530e and Mercedes E 300 e are virtually leather-lined, ambient-lit, prestige savings accounts on wheels.
Both are also new models, with the Mercedes only recently launched and the BMW just refreshed with a new, higher-capacity 12kWh battery (and a four-wheel-drive model that you can read about in our full review).
BMW 530e M Sport
Pros: Class-leading infotainment, good practicality, lovely to drive
Cons: More expensive than diesel 5 Series, petrol engine isn't economical
Mercedes E 300 e AMG Line Premium
Pros: Smooth powertrain, top-notch interior, large fuel tank
Cons: Poor boot space, high monthly finance cost, no four-wheel-drive version
If you're thinking of spending your company-car allowance or hard-earned cash on one of these, you'll want to know which goes furthest on electric power only, which is the most economical thereafter and which is the best to drive and live with. So put down your LinkedIn app and read on...