BMW 530e vs Mercedes E 300 e: performance and handling
The BMW is the clear winner for driving enjoyment, but both are superb long-distance cruisers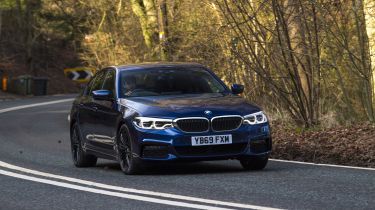 Both of these cars make exceptional long-distance cruisers and also deliver a cohesive, satisfying drive on a good road, but the BMW is better to drive overall. It's some 150kg lighter than the Mercedes; you can feel that in its more energetic turn-in and the way it hides its substantial mass better.
It has a bit more body float over fast undulations, but is otherwise neatly tied down in corners and generally feels more encouraging on the right road. The Mercedes has lovely, slick steering progression and is really pleasing to drive smoothly and quickly, but it never delivers the communication and driver involvement that the BMW does.
The BMW is also the more comfortable of the two. Our Mercedes test car came on 19-inch alloy wheels and run-flat tyres, which did it no favours at all, giving a rather brittle edge to the ride quality, which we know from our experience of living with an E 300 de diesel on 18-inch wheels and standard tyres can be usefully more cushy and relaxing.
In comparison, the BMW is less sensitive to wheel size, so even our M Sport test car on 19-inch wheels rode with supple pliancy. There's not much in it for refinement; both cars are exceptionally soothing commuters on the motorway or in town. There's very little vibration or harshness from the 2.0-litre turbocharged petrol engines, and the smooth shifts from the nine-speed (Mercedes) and eight-speed (BMW) automatic gearboxes are barely perceptible.
Where the Mercedes does beat the BMW is in straight-line performance. We managed 0-60mph in just 5.3 seconds from the E 300 e, which is quite remarkable for a two-tonne executive car that emits under 50g/km of CO2. You can thank the 700Nm of torque on offer for that.
The BMW lagged behind at 6.4 seconds for the same sprint, but it still feels seriously punchy, and the fact that it's offered with four-wheel drive will be of more appeal to most than the Mercedes' quietly rapid acceleration.