BMW 530e vs Mercedes E 300 e: verdict and specifications
The Mercedes E-Class hybrid is an impressive car, but the BMW 530e outshines it in a number of key areas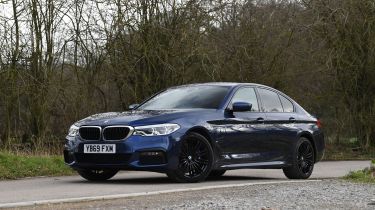 The BMW is certainly where your money should go. After all, while the Mercedes is a sumptuous car that delights with numerous little touches – from lights that fade to electric blue before going off to an interior wouldn't look out of place in an S-Class – and superior standard equipment to the BMW, it's blighted by rubbish boot capacity and high finance costs.
But it's also shockingly rapid – a proper 'Q-car'. Yet the BMW is usefully more practical, better to drive and also more comfortable. Not to mention cheaper on finance and leasing. Just be careful that you don't get carried away with the options, as it's even easier to increase the price by a four-figure amount on the 5 Series than it is on the E-Class.
1st: BMW 530e M Sport – 4.5 stars
The BMW is a fantastic all-rounder. It has the sort of polish and panache that make it feel every bit the £50,000 luxury car – in fact, it feels just as upmarket as most limousines, despite being good value on monthly finance compared to the Mercedes. More generous standard equipment and a longer battery warranty is all that's keeping it from a five-star verdict.
2nd: Mercedes E 300 e AMG Line Premium – 3.5 stars
That Mercedes offers this car as a diesel as well, and that it's more generously equipped, depreciates less and is cheaper to insure than the BMW, isn't quite enough to make up for its shortfalls. The boot intrusion is a glaring daily irritation, the electric range could be better and the monthly finance costs are eye-wateringly high. The E 300 e is a great executive car in its own right, but the BMW is certainly better.
Specifications
| Car | BMW 530e M Sport | Mercedes E 300 e AMG Line Premium |
| --- | --- | --- |
| List price | £50,120 | £50,030 |
| Monthly finance (PCP / business lease) | £532* / £390** | £750* / £460** |
| Engine | 2.0-litre petrol + electric motor | 2.0-litre petrol + electric motor |
| Transmission | Eight-speed auto, rear-wheel drive | Nine-speed auto, rear-wheel drive |
| Battery capacity (total / usable) | 12 / 10.4kWh | 13.5 / 9.3kWh |
| Power / torque | 249bhp / 420Nm | 316bhp / 700Nm |
| 0-60 / 30-70mph | 6.4 / 5.5 seconds | 5.3 / 4.8 seconds |
| Top speed | 146mph | 155mph |
| Braking 70-0 / 60-0 / 30-0mph | 51.6 / 37.6 / 10.2 metres | 49.9 / 37.2 / 9.8 metres |
| 100% charge cost at 14p/kWh | £1.45 | £1.30 |
| Charge time (wallbox / socket) | 3hrs 30mins / 5hrs | 1hr 45mins / 5hrs |
| Official MPG / CO2 / electric range | 177-202mpg / 38g/km / 30-35 miles | 141-202mpg / 47g/km / 31-34 miles |
| On-test MPG / electric range | 29mpg / 25 miles | 31mpg / 22 miles |
| Road tax / BiK rate  | £455 / 10% | £455 / 10% |
| Length / width / height / wheelbase | 4,936 / 1,868 / 1,479 / 2,975mm | 4,940 / 1,852 / 1,452 / 2,939mm |
| Boot capacity (seats up) | 410 Iitres | 370 litres |
*PCP estimate, based on £7,000 deposit, 36-month contract and 10,000-mile annual allowance
**Business contract hire estimate, based on 36-month contract and 10,000-mile annual allowance