BMW 530e vs Mercedes E 300 e: space and practicality
BMW wins this category easily thanks to the Mercedes' awkwardly shaped boot intrusion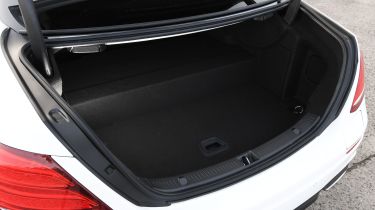 This is an easy one: the BMW takes it. While the boot capacity on paper doesn't seem to differ much between the two, the Mercedes' 370-litre boot is even less useful than it sounds due to a huge raised ledge to accommodate the batteries. It's so intrusive that it's difficult to load even a couple of airline cabin-size bags.
The BMW's official boot capacity of 410 litres doesn't look like much more in principle, but a flat floor makes it a far more usable space.
At least both offer some underfloor storage to keep your cables in. Both have plenty of room in the back for two tall adults, and decent space for storing paraphernalia out of sight up front.