Audi e-tron 55 quattro vs Jaguar I-Pace EV400: range & charging
The Audi has the bigger battery, but the Jaguar goes furthest on a charge – although neither has the real-world range you might hope for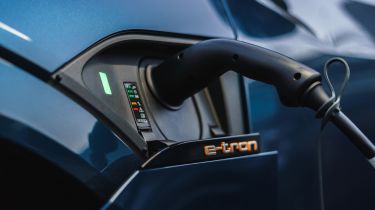 As you'd expect, both cars come with all the charging cables you need, and both charge using the European standard sockets (Type 2 for slower AC charging and CCS for faster DC charging).
It'll be easy, then, to find a public charger for a quick top-up, although having a home charger installed is essential to make life easy.
Despite the large batteries on these cars, the reality is that in daily ownership you'll be getting a real-world range of around 200 miles from both of them – less than that in cold weather or with a lot of motorway miles to cover
Range
Back-to-back, on the same day and the same route in our two big-battery, high-performance SUVs, the I-Pace returned the better efficiency and range. Over a course of equal parts town, country road and motorway miles, the Jaguar managed 2.5 m/kWh, while the e-tron returned 2.3.
This efficiency figure is like miles-per-gallon for electric cars, so the higher figure, the better. Effectively, the Jaguar's figure means it'll do 2.5 miles for every kWh of battery capacity.
Except, to add confusion, most electric cars including the e-tron and I-Pace reserve some of their battery capacity in order to boost battery life. While the Audi has a bigger battery overall, the usable capacity of these cars is almost identical, with the Jaguar packing 84.7kWh and the Audi 83.6kWh.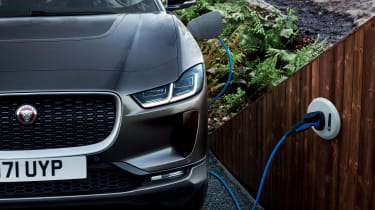 All a bit complicated? Yup. But don't panic, what matters is that this all adds up to a real-world range of 212 miles for the Jag and 192 for the Audi. That's disappointing for both, especially since (as with every electric car) cold weather or a lot of motorway miles will see the range drop even further.
Of course, the flipside is that you'll go a bit further than we managed over our varied route if you spend most of your time around town or on slower roads.
But although neither fares too well in terms of range when compared to alternatives such as the bigger Tesla Model X, there's no doubting that of our two protagonists, the Jaguar is better at eking out some extra miles.
Charging
The Audi has the faster rapid-charging capacity of these two, with a maximum rate of 150kW compared to the 100kW offered by the Jag. Find a public rapid charger capable of those speeds (still frustratingly rare on UK roads) and you'll get a 20-80% charge in 40 minutes in the Jaguar, while the Audi will be more like 30 minutes. 
Currently, 50kW rapid chargers are far more common, and these will deliver the same top-up in around an hour for both the Audi and Jaguar. Plug them into a 7kW home charger, which the vast majority of owners will have installed, and you'll have a full battery in around 12 hours.
The three-pin domestic cable that both cars are provided with is classed as an emergency back-up by the manufacturers, since plugging into a normal socket at home will add only about eight miles of range per hour. A full charge from empty will take well over 24 hours.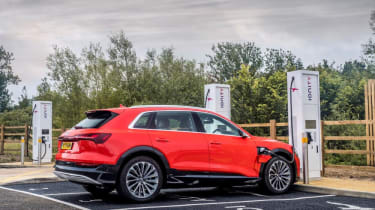 The Jaguar plugs in on the front passenger-side wing of the car, while the Audi actually has twin sockets – one on each front wing, with a Type 2 input on both sides to make it really easy to plug in if you regularly park parallel to a charger. There's only one CCS port, though, on the driver's side socket.
What are the standard cables, and are they easy to store?
The Audi and Jaguar both come with a standard Type 2 cable, which will fit in most chargers including home wallboxes, as well as a three-pin cable that allows you to plug into a normal domestic socket in your house. The Audi goes one better, since it also comes with a 32A industrial connector of the sort commonly found on campsites or in industrial premises.
Partnership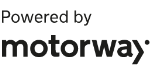 Need to sell your car?
Find your best offer from over 5,000+ dealers. It's that easy.
Storing the cables is easy, since both of these SUVs offer space under the bonnet, but the Audi's space is particularly clunky to access, since you have to release the boot using an old-school bonnet release in the driver's footwell. 
Even so, the reality is that electric-car cables tend to be chunky and awkward to store neatly, so having the dedicated space up front is a convenient touch. There's also a decent amount of underfloor storage in the boots of both of these cars, which may be the quicker and easier solution for those rainy or rushed moments when you can't be bothered to press the buttons and find the latch releases required to get into the front storage spaces.
Don't worry about cables for rapid CCS charging. All rapid-charging stations come with the cables fixed to the charging unit, so you simply pull up, grab the plug hanging off the charging point and plug it into your car. It's only slower AC Type 2 chargers that you'll need the car's charging cable for. 
How much will the Audi e-tron and Jaguar I-Pace cost to charge?
Because both of these cars have a similar usable battery capacity, they'll cost much the same to charge up. Plug in to a home charger on a standard domestic tariff of 13p/kWh and you'll pay £11 to fully charge the Jaguar and £10.87 to do the same in the Audi.
Public fast charging is more expensive and can cost up to 30p/kWh. That means that you should factor in £15 for a 20-80% top-up at a charger on the motorway services, which (using our real-world range figure) will add 127 miles of range in the I-Pace and 115 miles in the Audi. That's not including the registration fee or monthly payment that some charge providers require.
Range & charging scores