Twin test: Audi e-tron 55 quattro vs Jaguar I-Pace EV400
We put two of the frontrunners in the electric executive SUV market head-to-head on UK roads to find out which one's best
Upmarket SUVs have led the assault on the electric-car market in the last year or so. Jaguar was first to the line, launching its performance-focused I-Pace in 2018 to numerous awards and plaudits. Rightly so, given how ahead of the game it feels.
But the game might have caught up in the form of the Audi e-tron, the first pure-electric car from the German brand and a direct rival to the Jag. 
Here, we're testing the Jaguar I-Pace in top-spec HSE trim, while the Audi is in the cheaper of the two trims on offer. The figures suggest that the Jaguar still has the edge, with a superior official range and better performance despite a smaller battery – likely benefits of being designed as a pure electric car from the ground up, as opposed to the modified conventional platform the e-tron sits on.
Comparisons on paper are one thing, though; a detailed on-road evaluation is another. Let's find out how they stack up...
Audi e-tron 55 quattro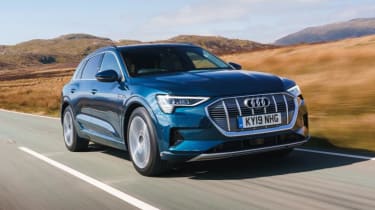 Pros: Interior finish, space and comfort, infotainment technology
Cons: Price, real-world range, underwhelming handling
Jaguar I-Pace EV400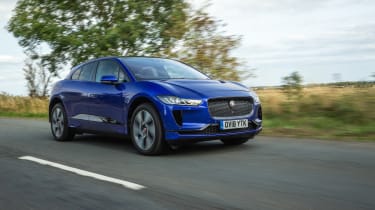 Pros: Brilliant handling and performance, striking looks, entry price
Cons: Firm ride, real-world range, fussy infotainment
At a glance
|   | Audi e-tron 55 quattro | Jaguar I-Pace EV400 AWD HSE |
| --- | --- | --- |
| Price | £68,060 (after PiCG) | £71,495 (after PiCG) |
| Estimated monthly cost* | £719 | £756 |
| Energy consumption / real-world range | 2.3 miles/kWh / 192 miles | 2.5 miles/kWh / 212 miles |
| At-home charge cost (13p per kWh) | £12.35 | £11.70 |
| Fastest 20-80% charge time | 30 mins (150kW) | 40 mins (100kW) |
| 0-60mph (test figures) | 5.4 seconds | 4.4 seconds |
| Boot (seats up/down) | 660/1,725 litres | 557/1,176 litres |
*PCP estimate, based on a 48-month contract with a £10,000 deposit and 10,000-mile annual allowance
It looks pretty close on paper, but how do the two rivals fare when we take them out into the real world? Read on for the rest of our head-to-head test between the Audi e-tron and Jaguar I-Pace…