Renault Megane E-TECH Electric prototype review
An early drive reveals there's lots to like about Renault's new electric family car, even if it does fall short on practicality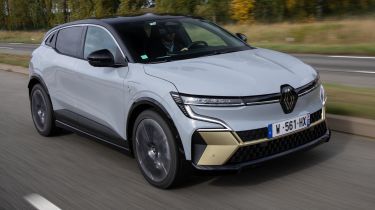 Pros
Eye-catching looks
Strong performance
Great Google infotainment
Cons
Rear seats a bit tight
Interior quality average in places
Some overly flashy styling touches
| Battery size | Range | Wallbox charge time | Rapid charge time |
| --- | --- | --- | --- |
| 40kWh | 186 miles | 6hrs 30mins (0-100%, 7.4kW) | 20mins (10-80%, 130kW) |
| 60kWh | 282 miles | 9hrs 45mins (0-100%, 7.4kW) | 29mins (10-80%, 130kW) |
Renault was one of the first manufacturers to offer a practical and affordable 'electric car for the masses' in the shape of its ZOE hatchback – updated several times since launch and still a strong contender in the supermini class. Now, it hopes to replicate the success of that smaller model with its all-new Megane. The well established family car is going electric-only for its next generation, as well as growing into a bit of a pseudo-SUV in the mould of the Hyundai Ioniq 5.
We've now had a chance to drive a pre-production prototype of the car, pretty close in most respects to the finished article, in Renault's homeland of France. Its full name is 'Megane E-TECH Electric', but it's expected to be generally known just as the 'Megane' as it'll have no combustion-engined or hybrid counterparts.
Just as previous generations of Megane battled for sales with the Volkswagen Golf, the new electric model will go toe-to-toe with VW's ID.3 hatchback when it arrives in the UK in 2022. Some have criticised the ID.3's rather anonymous styling, and they may be more impressed with what Renault designer Gilles Vidal has done with the Megane. Size-wise, it falls somewhere between the ID.3 and its ID.4 bigger brother, and we think it has more interesting design details than the German offerings, with slim headlights, Z-shaped LED daytime running lights and contrasting gold panels making sure you won't miss it when viewed from the front.
Along the sides, there are flush front doorhandles and hidden handles for the rear doors in the top of the window pillars, giving it a sleek finish. There's a kick up in the windowline as it approaches the rear of the car, where you'll find the full-width light bar that's becoming almost mandatory on new car designs these days. Inside, the Megane feels closer to its predecessors than its eye-catching exterior styling would suggest. There's a 12.3-inch driver's screen and a slightly smaller portrait-orientated one in the middle of the dashboard; these are seamlessly joined together by a classy-looking dark panel that also encompasses the central air vents.
That portrait-orientated screen is great to use – just like similarly orientated setups from Ford (in the Mach-E) and Volvo. And the Volvo similarities don't end there; just like the Swedish brand, Renault has elected to hand over its in-car interface to Google. This means you get 'Hey Google' voice control, which is one of the best we've used in a car. Just by speaking, you can make a phone call, send a text, programme the sat nav, adjust the temperature and check the weather forecast.
Apple users don't need to panic, as CarPlay is also standard, and the transition between this and the Google system is very smooth. If you prefer not to use voice control, you can operate functions by tapping and swiping on the screen, and this works well, too, with clear and bright graphics and snappy responses. Finally, the heating and ventilation can be operated using physical controls under the screen – something many drivers still prefer.
Overall, interior quality is better than the ID.3, but given that car's rather low-rent feel in places, that's not necessarily high praise. It all looks nice – the Megane we drove had sustainable wood finish around the doors and a leather-look dashboard – but the door tops themselves felt a little hard to the touch. Quality aside, most drivers are likely to be impressed with the general comfort on offer. The armrests are well placed to allow for a relaxing driving position, while the steering wheel and seat have lots of adjustment and visibility is good, save for through the rather narrow rear window. A digital rear-view mirror, offering a wider field of view than the standard glass mirror, will be available as an option to help remedy this.
Rear-seat passengers may not be as satisfied as their driver: although this new Megane claims to offer 21mm more space in the back than the old car, it still feels tight back there, particularly if those in the front are taller and have had to move their seats back for legroom. Foot space is cramped, especially if the front seats have been lowered, and the high-set rear seats (to accommodate the battery back) make both the rear door opening and rear-seat headroom less generous than is ideal for family buyers.
There's better news when it comes to the boot, where the Megane's 440-litre luggage capacity beats the ID.3's. It's also quite deep and offers plenty of underfloor storage, as the Megane is front-wheel drive, with no rear-axle motor. There is quite a high load lip to heave heavier items over, however; Renault tells us a false floor to give you a flat load lip should be an optional extra on the production car.
When it comes to the driving experience, the new Megane's on-paper specifications look promising. Sitting on a platform that'll also underpin the Nissan Ariya, it weighs nearly 200kg less than an ID.3 with almost the same battery capacity. Power output is 217bhp, and there's a heady 300Nm of torque, leading to strong acceleration from almost any speed. We did experience quite a bit of wheelspin on the damp autumn-leaf-coated roads of our test route, but are assured this will be improved on for the final production version. No official 0-62mph time has been issued yet, but it feels faster than the engineers' estimation of 7.4 seconds or so.
Adjustable regenerative braking is present and correct, although unlike some rivals there's no level that would allow for genuine one-pedal driving, which may disappoint some established electric-car drivers, especially those coming from a Nissan Leaf. There's also a selection of driving modes, namely Eco, Comfort and Sport, as well as the option of mixing and matching some of their characteristics to create an Individual mode. Sport doesn't alter the car's character massively from Comfort, which we expect most drivers will use most of the time.
That's largely down to the fact that the Megane is an enjoyable car to drive whatever mode you select. On top of the aforementioned swift acceleration, it offers quick steering and a low centre of gravity, along with accomplished handling through a series of country-road corners. We'd stop short of describing it as an 'electric hot hatch' out of the box, although a higher-performance Alpine-tuned version would be a tempting prospect indeed.
The Megane's inherent sportiness is combined with a nicely smooth ride. It's not pillow-soft; you will feel bumps in the road, but they shouldn't upset things too much. Noise is kept to a minimum, although the electric motor is a bit 'whirrier' than those of most of the Renault's competitors. As regards range and charging numbers, the Megane will be offered with two different battery sizes from the off: 40kWh for a 186-mile range and 60kWh for a 282-mile total. Rapid charging at up to 130kW will allow for an 80% top-up in half an hour for the larger-battery model, or 20 minutes with the smaller battery.
The all-important prices, trim levels and equipment lists have yet to be finalised ahead of order books opening in February 2022, but the Megane E-TECH line-up is expected to be priced close to the £30,000-£40,000 range of the ID.3. Based on this first impression, it should be a strong addition to the now very competitive family electric-car class. While it won't beat the likes of the Skoda Enyaq iV for sheer practicality, its appealing mixture of driving enjoyment, comfort, smart styling and user-friendly technology could win it a lot of fans.