Renault Kangoo E-TECH electric (2011-2021) seating & load space
There's decent capacity inside, especially in the larger Kangoo E-TECH Maxi version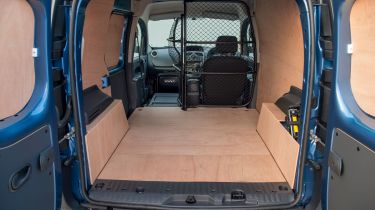 The Kangoo E-TECH is a two-seater – there's no three-seat option like the Citroen Berlingo Electric and Peugeot Partner Electric offer – but a tall roof and big windows mean it feels spacious enough inside. There's useful storage, although the Renault suffers from a cramped glovebox, which is typical of French cars of the same age. The option of standard and Maxi bodies means there's plenty of load volume, while the Maxi Crew model has five seats, although it's really designed for work rather than as a family wagon.
Renault Kangoo E-TECH electric interior space, storage & comfort
Head and legroom is plentiful in the Kangoo Z.E., although because the seat and steering wheel are only height-adjustable, some drivers may find it hard to get comfortable at the wheel. Another issue could be with the passenger seat if you add the optional swivelling bulkhead.
To make room for the mechanism, the passenger seat has been pared down so that it folds to a compact size – this is good for load capacity, but could mean the seat is uncomfortable for anybody spending the day sat there. Interior storage consists of an overhead shelf, plus door bins, a tray between the seats and more trays on top of the dashboard.
Load space
The Kangoo Z.E. offers a cargo capacity of three cubic metres in standard guise and four cubic metres in Maxi form. Adding the optional swivelling bulkhead gives you an extra 0.6 cubic metres of space, and the ability to load items over two metres long. Go for the Maxi Crew Van, and you get a load area from 1.3 to 3.4 cubic metres, while the Crew Van Cab has a capacity ranging from 2.4 to 3.6 cubic metres, courtesy of its multi-positional bulkhead. Whichever Kangoo Z.E. you choose, there's no compromise in load volume compared to the diesel variants.
The same can't be said for the maximum payload. The Kangoo Z.E. has a payload of 625kg in standard guise, 605kg in Maxi form and 640kg in Crew Van form. This is around 100kg less than the diesel Kangoo can carry, but Renault states that the types of businesses that'll be looking at a Kangoo Z.E. are unlikely to go near the maximum payload, favouring load volume instead. Other specs worth noting are a maximum load height of 1.13 metres, while the maximum load length ranges from 1.86 metres to just over a metre.