Renault Kangoo E-TECH electric (2011-2021) performance, top speed & motor
The Renault Kangoo E-TECH has enough power for making progress around town, however it's anything but fast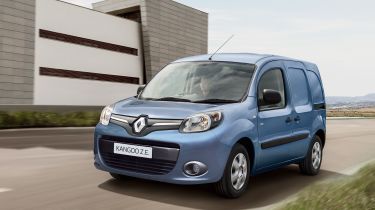 The Kangoo E-TECH has a conventional layout, with a front-mounted electric motor, front-wheel drive and the batteries mounted under the cargo area to help keep the centre of gravity low. Surprisingly, Renault quotes a gross vehicle weight of 2,060kg whether you choose the standard van or the Kangoo Maxi – only around 100kg more than for the diesel Kangoo.
As a result, the Kangoo E-TECH handles similarly to the diesel, although as the platform can trace its roots back to the start of the 21st century, it's not the most sophisticated or cutting-edge under the metal – the focus here is on electric drive more than the driving experience itself. The suspension is designed to carry payloads, too, so there's some bounce when driving around unladen, while interior noise at speed is pronounced if you specify the van with the optional mesh bulkhead.
Renault Kangoo E-TECH electric motor, 0-62mph and acceleration
The Kangoo E-TECH has a 60bhp motor, which translates to a fairly lethargic 0-62mph time of 20.3 seconds for the standard van, while the Maxi takes even longer, at 22.4 seconds. Top speed is 81mph, although go anywhere near this and you'll decimate the driving range. The Kangoo E-TECH sprints off the line eagerly enough, but it's best to keep below 40mph, because it soon runs out of steam.
Handling
While Renault has a reputation for building lively small cars, the Kangoo E-TECH can't live up to this. The weight of the batteries doesn't help its cause, although it does mean the electric van has a less choppy ride than the diesel version when unladen. But the chassis is designed with load-lugging in mind, rather than fun handling.
There's lots of body lean in corners, while the steering is light and provides little in the way of feedback. Energy-saving tyres are fitted as standard, but they only provide adequate grip – you can hear them chirp if you give it full throttle from a standstill – but at least the brakes and regenerative electric motor mean you can come to a halt briskly.
Because there's no diesel rattle dominating the interior, you pick up on other noise sources. We've only tried the Kangoo E-TECH with the mesh bulkhead, and the open load area makes road, wind and tyre noise reverberate around the interior. So while other electric vehicles manage to be quiet and refined, the Kangoo makes nearly as much noise as if you've opened the windows while you're driving.