New all-electric Porsche Boxster and Cayman: spy shots and latest details
The future zero-emissions Porsche sports cars will use a bespoke platform and will be influenced by the Mission R race-car concept we drove last year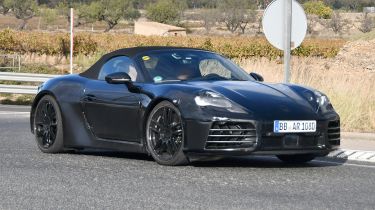 The next-generation Porsche 718 Cayman coupe and 718 Boxster convertible will ditch their petrol engines in favour of a pure-electric powertrain. The new zero-emissions sports cars aren't due to launch until 2025, but a prototype of the drop-top Boxster EV has already been snapped undergoing testing by our photographers.
The heavily camouflaged test mule bears a very close resemblance to the out-going Porsche Boxster. But some of its styling cues like the slimmer, more horizontal headlights, full-width LED light bar and tall rear bumper are elements shared with Porsche's Mission R concept we drove in 2021 (below), indicating the new models' styling will be influenced by the electric race car.
It's more than likely some of the test mule's extra cladding has been applied to disguise the design and proportions of the road-going EVs, while the exhaust tip protruding from the rear bumper is certainly fake. However, the additional bodywork from the rear doors to the rear axle reveals the longer wheelbase needed to accommodate a battery pack similar in size and layout to the Mission R's 82kWh unit.
The Mission R differed from most modern electric cars by using a battery stack located behind the passenger compartment, rather than under the floor. This allowed for a similar layout and weight distribution to a mid-engined sports car with a petrol engine, as well as the low-slung seating position you'd expect in a sports car. Lotus has confirmed it's developing a similar concept for its own electric sports car, and based on these latest images of the Boxster EV, it appears Porsche has carried the idea over from the Mission R to the production model.
We don't expect to learn any specifications for the Boxster and Cayman EVs for some time, but Porsche boss Oliver Blume has revealed they will use a bespoke platform. And even though the pair will be available exclusively with electric power, he added they are being designed like a mid-engined combustion-engined car would be, in order "to have agility of the car, fantastic performance values we want to achieve. We want to launch it as the most sporty car in the B-segment."
We expect most variants will rely on a single electric motor powering the rear wheels only, which should provide a balance of performance and range, but we wouldn't be surprised if Porsche also produced more hardcore versions of both models using a dual-motor setup.
The new Boxster and Cayman will be the third and fourth electric cars in Porsche's line-up, joining the Taycan, which the brand has produced over 100,000 of examples to date, and the next-generation Macan SUV arriving in 2024 and will be exclusively electric, too. Porsche predicts 50% of its sales to be electrified cars by 2025, with the first hybrid 911 expected to debut in 2023.
No official images or details of the electric Cayman and Boxster have surfaced as yet, but the Mission R electric racing-car concept we mentioned does hint at what the zero-emissions sports cars from Porsche could be like.
Porsche Mission R concept drive
The Mission R features twin electric motors generating a maximum output of 1,073bhp in 'qualifying mode'; enough to accelerate from 0-62mph takes less than 2.5 seconds, and on to a top speed of 186mph. Thanks to 900-volt electrics allowing for a maximum charging speed of 340kW, the Mission R's 80kWh battery can be topped up from 5-80% capacity after just 15 minutes of being plugged in.
Partnership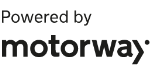 Need to sell your car?
Find your best offer from over 5,000+ dealers. It's that easy.
The car is wide and surprisingly short, with huge slick tyres and a massive rear wing that dominates its looks. We weren't experiencing the Mission R concept in full-on 'qualifying mode', nor in its normal 671bhp 'race mode'. The car was perhaps producing more like 400bhp, but in a circa-1,500kg vehicle, that should still make for very lively performance.
Sitting inside the Mission R, after climbing through the bars of the roll cage and strapping into the racing seat, the track ahead is visible through a narrow rectangle of a windscreen. The car is silent when switched on, but once in motion, earplugs were vital, as it erupted into a riot of screaming gears and electric motors.
It's not the same soundtrack that fans of motorsport are used to hearing – nor does it sound like any conventional electric road car – but from the inside, at least, the Mission R still has the full amount of presence and aggression you'd expect.
The brakes may not be anti-lock, but they're hugely powerful, while only small movements of the steering wheel are required to access the incredible amount of grip on offer. Driving the Mission R was a very physical and involving experience, but also surprisingly emotive, despite the lack of a combustion engine.
We've driven the electric Porsche Macan: here's why you should hold off on the petrol model…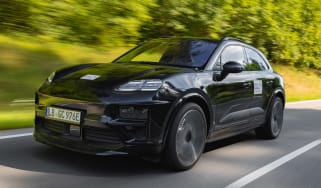 We've driven the electric Porsche Macan: here's why you should hold off on the petrol model…
DrivingElectric Awards 2024: the winners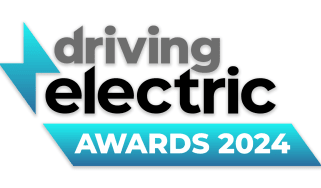 DrivingElectric Awards 2024: the winners
We celebrate the very best products in the EV world
Tesla Cybertruck: pricing and specs for Elon Musk's electric pickup truck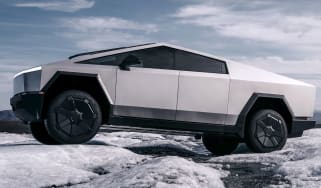 Tesla Cybertruck: pricing and specs for Elon Musk's electric pickup truck
The Tesla pickup truck is now on sale, with a range of up to 340 miles and a starting price of just over $60,000