Polestar 2 interior, dashboard & comfort
Great build quality, familiar architecture and impressive Google-powered infotainment all count in the Polestar 2's favour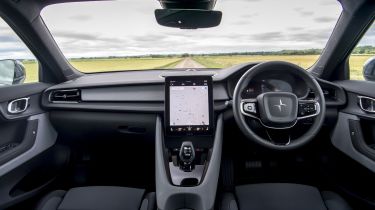 Inside, the Polestar 2 feels cool and comfortable; the minimalist style of the exterior continues with clean lines, high-quality materials and a large, Android-powered central infotainment screen that's used to control most primary functions and features slick Google-integrated services.
Standard equipment is generous, build quality is good and all come as standard with vegan-friendly trim, which can be switched out for leather at extra cost. Polestar follows Volvo's lead with a set of excellent seats, a smattering of attractive wood inlays and a general feel of simple, considered design that doesn't quite go to the ruthlessly minimalist levels that Tesla achieves in its cars.
Polestar 2 dashboard
Volvo owners will find the Polestar 2's dashboard familiar in its general architecture, particularly with its high-set dashboard, high-waisted doors and Volvo-derived steering wheel. The centre console is a departure, however, rising high up between the front-seat passengers to meet the large floating portrait touchscreen, a sculptural drive selector and a tactile rotary control for infotainment navigation. Three trim options are available, with a choice between black ash or reconstructed wood trims, and there are also three upholstery options.
Equipment, options & accessories
Polestar hasn't skimped on standard equipment on the 2, which for now comes in just one trim level. Kit includes a panoramic sunroof, a Harmon Kardon sound system, wireless phone charging, heated front and rear seats, a heated steering wheel (and wiper blades!) and Polestar's new Android-powered infotainment system displayed on an 11.5-inch touchscreen and a 12.3-inch driver's display behind the steering wheel. Google Maps sat-nav is standard, as is Android Auto as you'd expect – but Apple CarPlay doesn't feature yet.
Together with the full suite of safety features and driver assistance systems (see the Reliability & Safety section of this review), the Polestar 2's impressive level of standard equipment means it's more than a match for the Tesla Model 3 in terms of value for money, while also giving some more expensive rivals cause for concern.
The options list is limited to paint finishes (£900 apiece), leather upholstery (£4,000), the aforementioned Performance Package (£5,000) and an electric tow bar (£1,000). You can also add 20-inch alloy wheels to non-Performance Pack cars for £900. A range of accessories is also offered, including child seats, roof racks and extra charging cables.
Infotainment, apps & sat nav
A headline feature for Polestar – and one that's soon to arrive on all Volvo models, too – is its Android-powered infotainment system. The system comes with a full complement of Google services, including slick Google Maps sat-nav, multi-language voice recognition, Google Assistant and access to the Google Play Store.
It's particularly good news if you're an Android phone user or an existing proponent of the Google ecosystem – but those with iPhones may not be so impressed. There's no denying the system works well, however: the 11.5-inch touchscreen looks good and is snappy and easy to use. Polestar says it's working on adding Apple CarPlay connectivity in the future, along with the addition of Apple apps to the Google Play Store – but the likelihood of the latter actually happening is pretty low.