Polestar 2 range, battery & charging
Lots of charging options and a competitive range keep the Polestar 2 on par with its rivals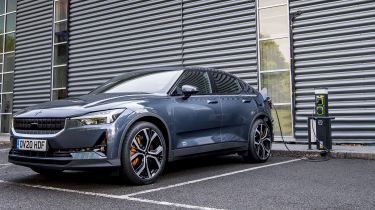 | Range | Battery size | Wallbox charge time | Rapid charge time |
| --- | --- | --- | --- |
| 273-336 miles | 64-78kWh | 9hrs 45mins-12hrs (0-100%, 7.4kW) | 27-32mins (10-80%, 150kW) |
With a claimed range of 292 miles, the dual-motor Polestar 2 sits above an entry-level Tesla Model 3 but below the upper tiers of that car's line-up. Still, it should be enough for most buyers of an electric car of this type, while futureproof charging capability should help reassure owners with range anxiety.
Polestar provides an online calculator to help owners figure out how often they'll need to charge their car. A slider for weekly distance is translated into total monthly charges, total savings on petrol or diesel fuel versus electricity, along with projected CO2 savings. It'll also help you find your local charging point.
All Polestar 2 models come as standard with a Type 2 AC charging cable, along with a three-pin home-charging cable. There's no official home wallbox as you'll find with some other manufacturers, but Polestar suggests Pod Point as its preferred supplier on its website.
Polestar 2 range
The dual-motor Polestar 2's claimed range of 292 miles is more or less on a par with its nearest rivals – better than a Model 3 in Standard Range guise (254 miles), but not quite as good as the Long Range (348 miles) or Performance (329 miles). It's an exact match for the Jaguar I-Pace, which also has a claimed 292-mile range.
As with all electric vehicles, getting as close as possible to the car's claimed range will require careful throttle application and smooth driving. Making regular full use of the Polestar's impressive power and torque will drain the range significantly.
Charge time
Polestar has yet to confirm all of the charging times for the 2, but a calculation tool on its website can be used to help ascertain predicted times for 11kW wallboxes, 50kW DC chargers and 150kW DC rapid chargers, as well as rather outdated 3.7kW wallboxes and 220V (as opposed to the UK's 230V) home supplies. 
Provided your home has a three-phase electricity supply, a home 11kW wallbox will charge the Polestar 2 from flat to 100% in eight hours; in contrast, a lowly 3.7kW wallbox will take 24 hours to do the same. Figures for the more common 7.4kW home charger aren't given, but we estimate a figure around the 11-hour mark. Plug into your home supply directly with the three-pin cable and a full charge could take up to 40 hours.
Public charging times are more impressive: 40 minutes to 80% from flat from a 150kW DC charger or two hours to 80% from a 50kW DC charger. Polestar doesn't let its calculator for public charging times go past 80% in an effort to protect its cars' batteries.