New electric cars 2021
Many brands now have an electric car in their line-up, but that doesn't mean the wave of new arrivals to the market is showing any signs of slowing down. Here's what's in store...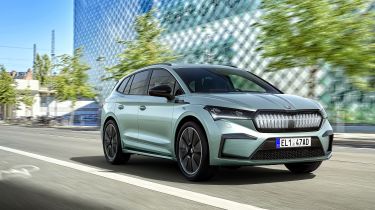 The electric car has well and truly arrived in the UK, with charging points popping up all around the country and the choice of models to buy ranging from affordable and practical city cars like the Volkswagen e-up! to luxurious, expensive and technologically advanced sports cars like the Porsche Taycan.
But the motor industry isn't known for resting on its laurels, and the current crop of zero-emissions motors is set to expand even further over the next 12 to 18 months as more brands get in on the act and manufacturers that already have an electric car on sale look to expand their ranges. And it's not just cars – take a look at our list of electric vans coming soon, too.
Here, we take a look at some of the most important and exciting electric-car arrivals due this year.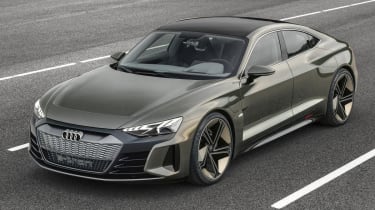 Audi e-tron GT
Audi's first foray into electric cars was the large e-tron SUV, but it has a swoopy A7-sized four-door electric coupe to rival the Tesla Model S and Porsche Taycan in the works, too. A prototype version (pictured above) appeared at the 2018 Los Angeles Motor Show and we've driven a lightly disguised near-production version. The prototype GT had a 96kWh battery and two electric motors, producing 582bhp for a 0-62mph time of 3.5 seconds. UK pricing is expected to be in the region of £100,000. Read more about the Audi e-tron GT here.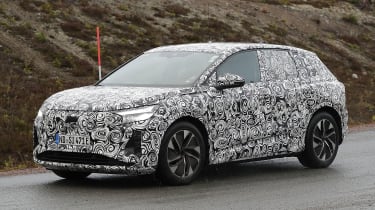 Audi Q4 e-tron
Spotted testing multiple times during 2020, the Q4 e-tron is set to arrive in 2021. It's based on a concept of the same name and will be offered both in standard SUV format and as a more rakish coupe-SUV, badged Q4 e-tron Sportback. Power will come from a pair of electric motors producing a total of 302bhp, fed by an 82kWh battery. A range of over 280 miles is claimed for four-wheel-drive versions, with rear-wheel-drive cars boosting that to 310 miles. Add 125kW DC rapid charging capability and the result is a very appealing electric SUV. Read more about the Audi Q4 e-tron here.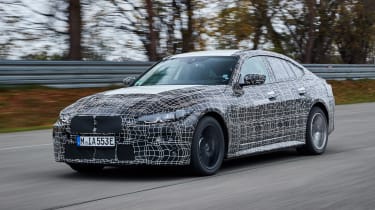 BMW i4
BMW has definitely taken note of the Tesla Model 3's disruption of the compact executive-car class; the American car offers compellingly low running costs and high-tech appeal for the same price as a high-spec diesel 3 Series, or its key rivals the Audi A4 and Mercedes C-Class. BMW's answer to the Tesla is this i4: an electric version of the 4 Series Gran Coupe. We've looked in depth at how it stacks up against the Tesla here and it seems like a close fight is in prospect. A 523bhp electric drivetrain fed by an 80kWh battery pack will give a circa-375-mile driving range, with 0-62mph done in around four seconds. Production is due to start in 2021. Read more about the BMW i4 here.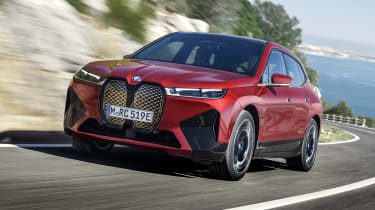 BMW iX
BMW is launching a whole slew of electric models in the near future, with this large iX SUV set to be the biggest of the lot. Originally previewed in concept form by BMW as the 'Vision iNEXT', the production version was revealed in late 2020 badged as the iX. Power comes from two electric motors with a combined 496bhp, enough for 0-62mph under five seconds. A large 100kWh battery is used, with a claimed range of just over 370 miles. Read more about the BMW iX here.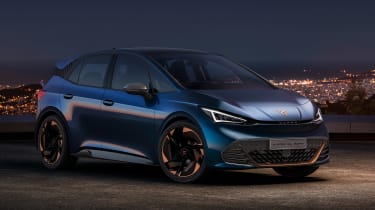 Cupra el-Born
The Cupra el-Born is the SEAT spin-off brand's answer to the Volkswagen ID.3, based on the same mechanicals and offering a similar family-car package – albeit with a sportier edge. An 82kWh battery gives a range of 310 miles, while a 0-31mph time of 2.9 seconds has been quoted in lieu of more conventional performance figures. We aren't quite sure how much (if at all) the car's chassis will differ from its Volkswagen counterpart, but it's safe to assume it'll offer a tighter and more responsive driving experience. Sales will start later in 2021. Read more about the Cupra el-Born here.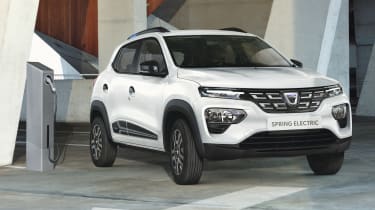 Dacia Spring
What'll almost certainly be one of the cheapest cars on this list when it goes on sale could also turn out to be one of the most important. The Dacia Spring Electric – based on the Chinese-market Renault K-ZE crossover – is set for Europe and is intended to undercut the current cheapest electric car you can buy by a large amount. The car uses a 43bhp electric motor paired with a 26.8kWh battery, with a claimed range of 140 miles. Sales start this spring, but it hasn't yet been confirmed for the UK. Read more about the Dacia Spring here.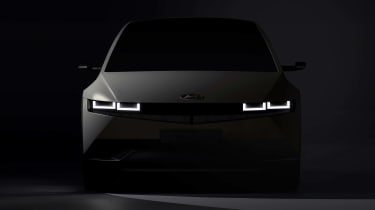 Hyundai Ioniq 5
Hyundai got off to a good start with its electric offerings to date: we rate the Ioniq Electric hatchback and Kona Electric SUV highly. The South Korean company won't be stopping there, however; it plans to launch a sportier and more stylish zero-emissions car this year in the shape of the Ioniq 5. It's the first to be launched under a new Ioniq sub-brand, much like Volkswagen's ID range, and will be the first model to use Hyundai's new electric-specific mechanical platform. It's based on a 2019 Frankfurt Motor Show concept that drew inspiration from the angular lines of Hyundai's first car, the 1974 Pony Coupe Concept. Read more about the Hyundai Ioniq 5 here.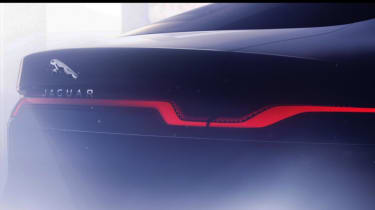 Jaguar XJ
Luxury cars are obvious beneficiaries of the shift to electric power, as they've always focused on providing as smooth and quiet an experience for occupants as possible. With the next-generation BMW 7 Series set to offer a fully electric option and Mercedes preparing its EQS electric saloon, Jaguar is following a similar tack with an electric version of its next-generation XJ flagship – a favourite with government and VIP users around the world. A teaser photo of the car's rear has been shown (above) and development cars wearing camouflage have been spotted in the wild. The XJ will join the I-Pace SUV in Jaguar's electric line-up and is set to be built at the firm's Castle Bromwich factory, which will become a hub for the production of electric drivetrains and models in the coming years. The car is set to enter production in October 2021. Read more about the electric Jaguar XJ here.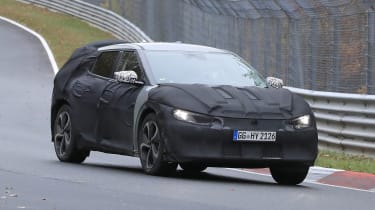 Kia 'halo' electric car
Kia and sister brand Hyundai have big plans in the area of electrification over the coming years, with Kia planning to launch multiple new zero-emissions models by 2027. They'll be headed up by a flagship, Tesla-rivalling SUV based on the 'Imagine by Kia' concept (pictured above). Its promised specs are impressive, with a 310-mile driving range and ultra-rapid 350kW charging capacity for a recharging time of less than 20 minutes. Expected to cost in the region of £50,000, the new electric Kia will appear at some point in 2021. Read more about Kia's electric flagship here.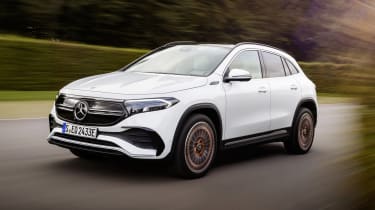 Mercedes EQA
Mercedes' assault on the electric-car market began with the large EQC SUV, but now that technology is set to find its way into smaller and more affordable models, including this EQA. An electric equivalent to the GLA compact SUV, the EQA uses an 188bhp electric motor and 66.5kWh battery, with a claimed range of 265 miles. The EQA is a direct rival for the Tesla Model Y and Volvo XC40 Recharge P8; unveiled at the end of January, we'll see it on sale later in 2021. Read more about the Mercedes EQA here.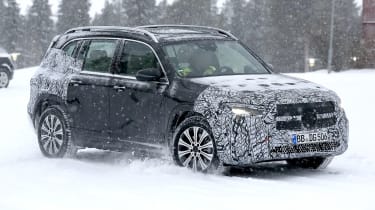 Mercedes EQB
While the Mercedes EQA above aims to offer a sleek hatchback shape, the EQB will essentially be an electric version of the recently unveiled Mercedes GLB, which brings the bluff and boxy styling of larger Mercedes SUVs like the G-Class and GLS to a smaller and less expensive format. As part of Mercedes' plan to have eight electric 'EQ' models on sale by 2023, the GLB is expected to arrive in showrooms at some point in 2021. A starting price of around £45,000 is likely. Read more about the Mercedes EQB here.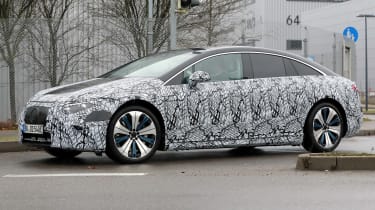 Mercedes EQS
Just as the GLA and GLB are set to get electric counterparts in 2021, so too will the next S-Class saloon – in the form of this EQS, as well as an SUV equivalent to the GLS. Details are sparse for now, but Mercedes has said the EQS will have the longest range of any electric car on sale, with 435 miles claimed. The car was last spotted testing on public roads in January and is set to go into production in mid-2021. Read more about the Mercedes EQS here.
Nissan Ariya
Likely to be one of the most successful electric SUVs of the year, the Ariya is Nissan's take on electrified family transport. Based on a 2019 concept of the same name, the Ariya gets a choice of battery sizes, up to 389bhp and as much as 310 miles' range on a single charge, depending on specification. The new car will be built on Renault-Nissan-Mitsubishi CMF-EV underpinnings, which will also form the basis of a similar model from Renault based on the Morphoz concept. Although the Ariya is slated to go on sale in early 2022, we expect to see prices and specifications before the end of 2021. Read more about the Nissan Ariya here.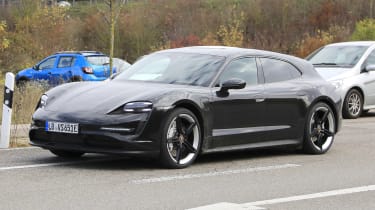 Porsche Taycan Cross Turismo
Just as the Porsche Panamera has its Sport Turismo shooting-brake bodystyle, the Taycan is set to get its own estate variant – the Cross Turismo. Based heavily on the Mission E Cross Turismo Concept of 2019, the new car appears to have lost that concept's off-road cladding, offered instead as a more practical variant of the existing Taycan saloon. Spotted in late 2020 testing with barely any camouflage, the Taycan Cross Turismo is expected to arrive on sale later this year – most likely with the same range of powertrains as the current hatchback model. Read more about the Porsche Taycan Cross Turismo here.
Skoda Enyaq iV
The Volkswagen Group's MEB electric-car platform is giving all brands under that group's umbrella the opportunity to develop their own electric models. Skoda's take is the Enyaq iV, a large coupe-SUV concept whose styling was previewed by the Vision iV concept. We've already driven a disguised pre-production version of the Enyaq and customer deliveries will begin in early 2021. It's roughly the same size as Skoda's Kodiaq SUV and will start from just over £33,000 on the road. Read more about the Skoda Enyaq iV here.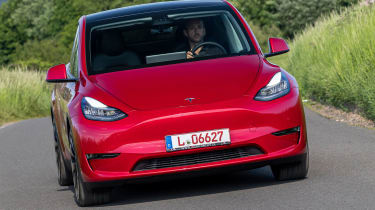 Tesla Model Y
It has been a long time coming, but we're going to have to wait even longer for the Tesla Model Y. The US brand's latest model's arrival in Europe has been delayed a few times; although deliveries have started in America, we expect to see the first cars in the UK towards the end of 2021. Sharing much of its mechanicals with the Model 3 saloon, the Model Y will take on the likes of the Volvo XC40 Recharge P8 at the smaller end of the electric SUV market. The longest-range model will get around 314 miles on a single charge. Read our early review of the Tesla Model Y here.
Vauxhall Mokka-e
Vauxhall and its parent company Opel are these days part of the PSA Group – which also oversees French brands Peugeot, Citroen and DS – so it has benefitted from the group's electric powertrain technology. The first result of this was the Vauxhall Corsa-e supermini, a sister model to the Peugeot e-208. The larger Peugeot e-2008 SUV will also have a Vauxhall equivalent in the shape of this Mokka-e. Whether in electric or petrol form, this new Mokka is set to be a radical departure from its predecessor, featuring a cleaner "detoxed" design language and a "fully digitised" interior. Expect to see it in showrooms in early 2021. Read more about the Vauxhall Mokka-e here.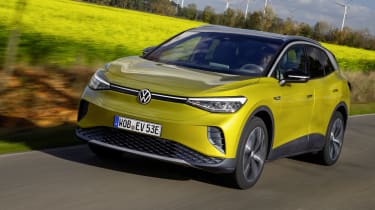 Volkswagen ID.4
Closely related to the Volkswagen ID.3 hatchback – as well as the Skoda Enyaq iV elsewhere on this list – the Volkswagen ID.4 will be the first all-electric SUV from the brand. Similar in size to the popular Volkswagen Tiguan SUV, the ID.4 offers a range of up to 324 miles in top-spec form, while various power outputs will also be offered. The car also gets four-wheel drive and features a practical 543-litre boot. Order books opened in late 2020, with deliveries expected early this year.
Aston Martin plans for 90% electrification of its range by 2030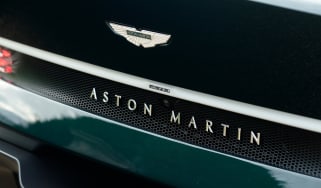 Aston Martin plans for 90% electrification of its range by 2030
Volkswagen ID.1 on the way as Polo-sized entry-level electric car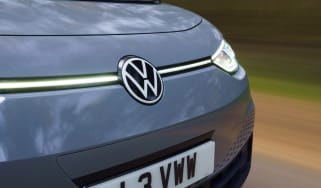 Volkswagen ID.1 on the way as Polo-sized entry-level electric car
Cupra to introduce new electric supermini in 2025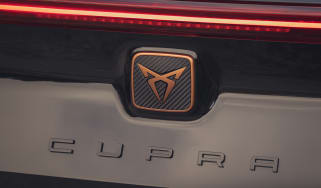 Cupra to introduce new electric supermini in 2025
Volkswagen ID.1 on the way as Polo-sized entry-level electric car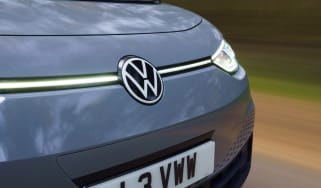 Volkswagen ID.1 on the way as Polo-sized entry-level electric car
Volkswagen is working on a small electric car based on its MEB platform; Cupra and SEAT models also on the cards
New 2021 Honda HR-V hybrid SUV revealed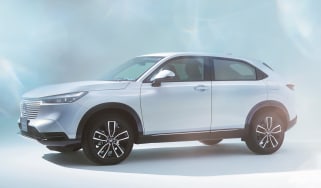 New 2021 Honda HR-V hybrid SUV revealed
Next-generation Honda HR-V will go on sale later in 2021 with pure-hybrid power only
Best plug-in hybrid cars 2021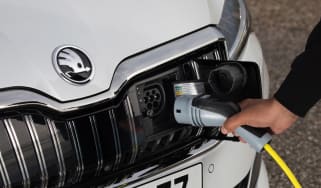 Best plug-in hybrid cars 2021
The best plug-in hybrid cars offer great fuel economy and very low running costs as long as you keep their batteries charged