BMW X5 xDrive45e vs Volvo XC90 T8: in numbers
We find out which of the BMW X5 xDrive45e and Volvo XC90 T8 plug-in hybrid SUVs wins the numbers game
The BMW X5 xDrive45e has caused a bit of a stir with its impressive official electric range of 54 miles, which is the longest of any plug-in hybrid car on sale – until the diesel plug-in hybrid Mercedes GLE arrives, at least.
The BMW X5 PHEV takes on rivals including the Volvo XC90 T8, which has also recently seen a facelift; this upped its battery size and increased its electric range to 28 miles.
However, the Swedish car offers seven-seat versatility whereas the BMW is a five-seater only, so there are clearly areas where the Volvo could still be better. On which note, scroll down to see how the two big, posh plug-ins fare when you compare the numbers.
If that's not enough information for you, check out our full reviews of the BMW X5 and Volvo XC90. And don't make a buying decision in the £60-£70,000 plug-in SUV class without also considering the Mercedes-Benz GLE 350 de, Range Rover Sport P400e and Tesla Model X.
Prices and equipment
The BMW certainly has one over the Volvo in this area given its lower pricing and company-car tax. That longer electric range makes for lower CO2 and means that company-car users pay half the Benefit-in-Kind tax that the Volvo demands.
|   | BMW X5 xDrive45e | Volvo XC90 T8 |
| --- | --- | --- |
| Price (min-max) | £63,165-£66,665 | £66,645-£71,945 |
| BiK company-car tax 2020/21 (12 months, 40% taxpayer) | £2,020 | £4,000 |
| Warranty | 3yrs/unlimited miles | 3yrs/60,000 miles |
| Battery warranty | 6yrs/60,000 miles | 8yrs/100,000 miles |
| Cost of a full charge at home (at 14p per kWh) | £3.36 | £1.63 |
Not only that, but the BMW has a lower list price despite decent equipment levels. Even the basic xLine gets LED headlights, 19-inch alloy wheels, leather upholstery, a power-adjustable driver's seat, a powered tailgate, automatic lights and wipers and parking assistance. M Sport adds bigger wheels, run-flat tyres and more aggressive styling. You do have to add the 'Comfort Pack' to get heated seats, which seems a bit mean on a car of this price.
The Volvo is better equipped as standard. Heated leather seats with power adjustment, four-zone climate control, adaptive cruise control, LED headlights and 20-inch alloys are standard on all XC90s, or if you go for a Plus model, you get adaptive air-suspension and a head-up display as well. The comfort options you'll most likely be tempted by include the panoramic roof and heated rear seats.
Both cars will be exempt from the London Congestion Charge until October 2021, when all plug-in hybrids lose their exemption. Even with the Volvo having a few more comforts as standard, there's no getting around the fact that the BMW is better value.
Range, charging and economy
The BMW X5's trump card is its range. With official WLTP tests suggesting it'll do between 42 and 54 miles (depending on wheel size and equipment), it offers usefully better electric range than the Volvo.
|   | BMW X5 xDrive45e | Volvo XC90 T8 |
| --- | --- | --- |
| Official electric range (WLTP) | 42-54 miles | 28 miles |
| Battery capacity | 24kWh | 11.6kWh |
| Engine | 3.0-litre six-cylinder turbocharged petrol | 2.0-litre, four-cylinder twin-charged petrol |
| Power / torque (combined) | 389bhp / 600Nm | 385bhp / 640Nm |
| 0-62mph | 5.6 seconds | 5.8 seconds |
| Top speed | 146mph | 143mph (est) |
| Maximum charging speed | 3.7kW | 3.7kW |
| 0-100% charge time (from 7kW home wallbox) | 7 hours | 3 hours |
| Charging cables | Type 2 / domestic 3-pin | Type 2 / domestic 3-pin |
The official economy figures are also in favour of the BMW. Tests show that the X5 can achieve up to 235mpg while the XC90 manages 113mpg. However, the official economy figures for plug-in hybrids can be misleading. They're taken over a distance that includes some running on battery power alone, which is how they achieve such high economy.
The reality is that you must plug in routinely to get anywhere near the claimed figures, so it's more useful in real-world use know how far you can go on the battery alone, and how economical the engine is when that electric running ends.
In this situation, with its petrol engine doing almost all of the work, we know the XC90 T8 will return a fairly poor 25-30mpg in varied everyday driving. We've yet to spend enough time in an X5 to comment on how economical the six-cylinder petrol engine is in normal use when the battery is depleted, but we'll report back as soon as we've driven the car in the UK.
Partnership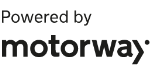 Need to sell your car?
Find your best offer from over 5,000+ dealers. It's that easy.
Even so, we're looking at the straightforward on-paper figures here, and on that front, there's no doubt that the BMW is ahead of the Volvo when it comes to range and economy.
Space and practicality
Both of these cars are big, hefty four-wheel-drives that promise outstanding family-car roominess. However, while the BMW outstrips the Volvo for costs and efficiency, its five-seat-only layout is distinctly disappointing next to the Volvo's seven-seat offering.
|   | BMW X5 xDrive45e | Volvo XC90 T8 |
| --- | --- | --- |
| Kerbweight | 2,510kg | 2,259kg |
| Length | 4,922mm | 4,953mm |
| Height | 1,745mm | 1,776mm |
| Width | 2,004mm | 2,140mm |
| Wheelbase | 2,933mm | 2,984mm |
| Luggage capacity | 500-1,720 litres | 302-680-1,856 litres |
It's rare to find a plug-in car with a proper seven-seat layout, and while the pure-electric Tesla Model X surpasses the Volvo for interior space, the Volvo is by far the most versatile plug-in hybrid on sale.
With five of its seven seats in place, the Volvo still has a huge boot with a flat floor and all the space you need to accommodate a big dog or a couple of chunky buggies. Then, the seats fold up easily and you can even fit average-sized adults in the third row if you want to. More realistically, the kids can climb in the back so the grandparents can sit comfortably in the more spacious and more easily accessed middle row.
It's that sort of versatility and carrying capacity that makes big SUVs such popular family cars, and it's why the XC90 is easily the best when it comes to space and practicality.
Conclusion
We'll have to get both cars together in the UK before we can arrive at a final verdict, but the numbers point to a fairly straightforward decision in favour of the more efficient and affordable BMW. However, if you want seven-seat versatility, the Volvo is still the way to go. And given how good we know the big Volvo to be, we reckon the BMW is going to have more to prove in reality than the numbers suggest.
Tesla Model 3 facelift will be a double-edged sword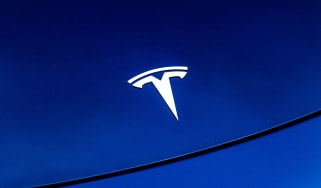 Tesla Model 3 facelift will be a double-edged sword
Tesla's updated EV will have an improved interior, greater range and a more affordable price – as well as one unfortunate drawback
Volkswagen ID. Buzz LWB is a retro, seven-seat electric MPV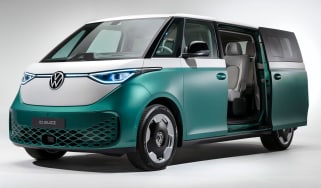 Volkswagen ID. Buzz LWB is a retro, seven-seat electric MPV
Volkswagen has unveiled a larger version of its ID. Buzz EV, boasting more seats and a larger battery with more range
Vauxhall Astra Electric: price, range and video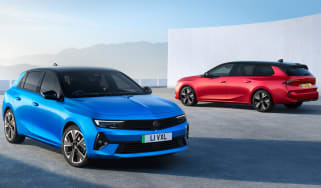 Vauxhall Astra Electric: price, range and video
The new Astra Electric shares its parts with the Peugeot e-308, with first deliveries due soon