Lexus ES 300h running costs
Competitive pricing, economy and company-car tax advantages all work in favour of the ES 300h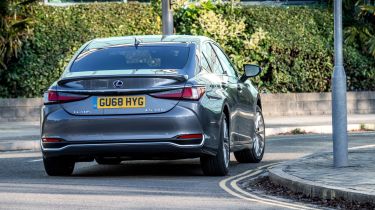 | Insurance group | Warranty | Service interval | 2021/22 company-car tax cost (20%/40%) |
| --- | --- | --- | --- |
| 33-38 | 3yrs / 60,000 miles | 1yr / 5,000 miles | From £1,862 / £3,724 |
With prices between £35,000 and £45,000, the Lexus looks pretty good value against petrol and diesel rivals from Europe, especially when the standard equipment levels are factored in. The BMW 520i SE will cost at least £1,500 more.
Lexus isn't renowned for its discounting, whereas you may be more likely to secure a deal from a manufacturer doing more extensive business with fleets. The CO2 figure is advantageous, too, giving the ES a low Benefit-in-Kind tax liability for company-car drivers.
Running the ES F-Sport on its big 19-inch alloy wheels will make a small difference to the calculations, as the MPG and CO2 figures will suffer slightly. The ES also doesn't qualify for exemption from the London Congestion Charge.
Lexus ES insurance group
The ES falls into insurance groups 33 to 38; that's slightly higher than its predecessor the Lexus GS, which was in groups 31 to 33.
Warranty
Lexus offers an industry-standard three-year/60,000-mile warranty, but while a few key rivals do a little better, none comes close to matching the Lexus brand's formidable reliability reputation.
Servicing
The Lexus ES 300h should cost a similar amount to service as the GS it replaced. Therefore, expect to pay around £265 for intermediate services at 10,000, 30,000 and 50,000 miles. Full services at 20,000 and 40,000 miles should be around £500.
Road tax
The entry-level Lexus ES and ES F-Sport will only incur the standard £145 road tax rate for hybrids, £10 less than a regular car. But, the Takumi trim level – and F-Sport models with option packs – exceed the £40,000 threshold that attracts the £335 annual road-tax surcharge in years two to six, bringing the total in that time to £480 a year.
Depreciation
The Lexus GS hasn't performed particularly strongly in the depreciation stakes, with 300h models retaining between 37 and 44% of their value after three years and 36 months according to our experts' predictions. Owners will hope the extra desirability of the new ES will improve those numbers a little.