Kia e-Niro range, battery & charging
If our experience of living with the Hyundai Kona is anything to go by, the e-Niro should do 260 miles in normal use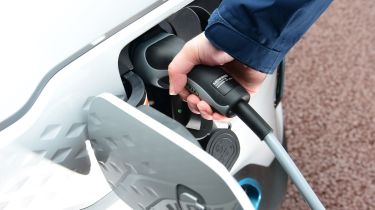 | Range | Battery size | Wallbox charge time | Fast charge time |
| --- | --- | --- | --- |
| 182 miles | 39kWh (e-Niro 2) | 6hrs 10mins (7.2kW, 0-100%) | 57mins (50kW, 0-80%) |
| 282 miles | 64kWh (e-Niro 3, 4+) | 9hrs 35mins (7.2kW, 0-100%) | 1hr 15mins (50kW, 0-80%) |
An official figure is one thing, but more promising is that our time living with the Kona 64kWh suggests that the similarly equipped Kia should achieve around 250-260 miles in normal use – even including a healthy amount of motorway miles. 
If you want to save a bit of cash up front and don't need that much range, Kia also offers the e-Niro with a smaller 39kWh battery that's good for a claimed 180-mile range. This is less than some cheaper, smaller electric cars can manage (a Vauxhall Corsa-e can do 211 miles, for example) but could still be a valid option for shorter-distance family transport.
Kia e-Niro range
The Kia e-Niro's headline 282-mile official range can be backed up by the experiences of our sister title Auto Express. Living with a Hyundai Kona 64kWh, the team saw around 260 miles in normal use, including a healthy number of motorway miles. You should be able to do the same in the Kia, which gets the same battery pack and platform. However you plan to use your electric car, the Kia will deliver great real-world range.
It follows that the official 180-mile range of the smaller-battery version should equate to something around the 150-mile mark in mixed driving – but we've yet to test this for ourselves.
Charge time
The most powerful Kia e-Niro – available in '3' trim and above – has a battery capacity of 64kWh, while the less powerful '2' comes with a 39kWh battery. Charging is as straightforward as it gets: you use a CCS or Type 2 cable that fits into a port in the car's nose, hidden behind a solid, vent-free panel.
The car comes with a Type 2 public charging cable and a three-pin plug for use with a domestic socket. But as with any car featuring a large-capacity battery like this, charging using the latter method will be extremely slow, with a full top-up taking nearly 30 hours, or 18 hours for the smaller battery.
A 7.2kW charger – like a home wallbox or public charge point – will do the same in around 10 hours, while a 50kW rapid charger (usually found at motorway services) should give you an 80% charge in an hour and 15 minutes – or 57 minutes for the 39kWh battery. The e-Niro is also capable of taking a 100kW charge, which will do the same top-up in under an hour, regardless of battery size.
Battery warranty
The Kia's battery and electric motor are both covered by the company's impressive seven-year/100,000-mile warranty. It's a shame that Kia doesn't cover loss of battery capacity in that time, as Nissan and Renault do with the Leaf and ZOE.