Kia e-Niro electric motor, drive & performance
Most importantly, the e-Niro is comfortable and smooth to drive, but it also has up to 201bhp for a surprising turn of speed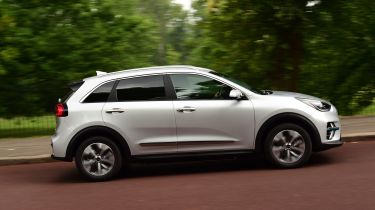 | 0-62mph | Top speed | Driven wheels | Power |
| --- | --- | --- | --- |
| 7.5-9.5s | 96-104mph | Front | 134-201bhp |
To say the Kia e-Niro is fun to drive is probably pushing it a bit, but it's certainly an easy and relaxing steer, with well controlled ride comfort, the trademark seamless acceleration of electric power and enough potency to give it surprising acceleration from low speeds if you want it.
Kia e-Niro electric motor, 0-62mph and acceleration
The most powerful e-Niro makes 201bhp and 395Nm of torque (the latter of which arrives the moment you hit the accelerator), which to most of us means that it feels fast – surprisingly fast. There are three driving modes to choose from: Eco, Comfort and Sport. 0-60mph takes 7.5 seconds and top speed is 104mph.
Choose red-backlit Sport mode and the throttle sharpens up, the steering weights up and you can actually fling the e-Niro around with unexpected gusto for an eco-minded family car. Even in the more ordinary modes, it'll startle hot hatches up to 40mph, and you'll have no qualms about merging with faster traffic or tackling a motorway journey.
Likely of more relevance are the steering-wheel paddles that allow you to toggle up or down the brake-regeneration levels very easily, which effectively means it's easier to top-up the battery charge a bit when you're on the move. Overall, the e-Niro is effortless and relaxing when you want it to be, and even delivers a sprightly turn of speed and neutral cornering ability if you fancy a bit more verve to your drive home.
The more recently added entry-level e-Niro produces 134bhp. We've yet to drive it, but it should feel pretty swift despite its more modest on-paper figures. The claimed 9.5-second 0-60mph time will be less important than rolling acceleration and the all-important off-the-line 0-30mph time, both of which are likely to make even the lower-powered e-Niro feel sprightly. Top speed is 96mph.
Handling
The front-wheel-drive e-Niro is secure and composed, and not without driver satisfaction. The steering doesn't feel natural, but it's precise and feels keyed-in enough that you can enjoy winding the car through town or down a decent road. Mind you, while the sharper throttle response of Sport mode is fun, the too-heavy steering weight actually feels less enjoyable than the lighter Comfort mode.
Of course, the e-Niro is quiet and calm. There's a bit more wind and tyre noise than you get in the more aerodynamic Nissan Leaf and a Volkswagen e-Golf is more fun thanks to its more natural-feeling steering, but the Kia is both relaxing and satisfying behind the wheel.