Kia e-Niro: Living with it
The e-Niro is a milestone electric car for its range and value, but how does it fare as a high-mileage family car? We ran one to find out...
Report 7: A great family car and the best electric car going
We've talked a lot about the Kia being an efficient, comfortable and generally lovely car to drive. More than that, it's also a great family car. We've used it as you'd use any family car. It's been on countless nursery runs, commutes into the city, trips to the tip, trips to the DIY store, trips to see family, taking the dog out, and host to many toddler naps as well.
The boot is big, the seats are comfy and even the materials have worn well despite my daughter's tendency to stomp all over things and kick the back of the front seats. A quick hoover and wipe and it looks great again. I do wish it didn't make an unnecessary amount of bonging and bleeping when you start. Ironically, while the car's electric motor is utterly silent when you hit the ignition, the incredibly loud welcome ditty and five loud bongs are enough to wake your neighbours, even with the doors closed.
One other gripe is that the location-based charging has always been hit-and-miss. You can set the Kia to recognise when it's in a particular location – home, generally – when you want it to charge up at off-peak hours. The problem is that it rarely recognises when it's in the designated location despite me inputting it in various different ways. A good way to get around this would be to have a smartphone app that would allow you to confirm charging times and pre-set the heating or air-conditioning easily. Thankfully, that function has been rolled out on the updated e-Niro for 2020.
Even so, it's rare that I've lived with a car this effortless. It has honestly been the perfect family car, and fun, too. I thoroughly enjoy launching off the line at traffic lights occasionally. No other road users expect a grey Korean hatchback – so innocuous-looking as to be virtually invisible – to be faster than most hot hatches up to 40mph.
So there you have it. I really am scratching around for things to complain about. The high insurance cost is certainly one that annoys me, since this is an eminently safe and easy-to-drive car. Still, Kia has well and truly proven that a likeable, practical and fun electric car is entirely achievable, and it's good to know that the benchmark has been set so high. It gives the host of new family hatches and SUVs coming next year something to aim for. And if any of them can even match, let alone better the Kia e-Niro, then we know that the future of the mainstream family car in the electric era is a bright one indeed.
Date: November 2019Mileage: 10,756 milesEfficiency: 4.5 miles/kWh
Report 6: Rapid charging 
The Kia e-Niro goes back very soon, and I decided to tick off one destination I'd been meaning to visit – the charging hub at Milton Keynes Coachway. Here, a convenient hop off the M1, you'll find a host of BP Chargemaster 50kW chargers, as well as four IONITY 350kW chargers. A nice glimpse of what charging can – and hopefully will – be like in the future.
Partnership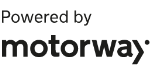 Need to sell your car?
Find your best offer from over 5,000+ dealers. It's that easy.
The Kia can charge at up to 100kW at a CCS charger capable of such speeds, which will deliver 100 miles of range in around 15 minutes. I've very rarely used public chargers in the e-Niro. Between the Kia's circa-250-mile real-world range (more like 200 in winter), and my 7kW home wallbox, I've only had to think about public charging on a handful of occasions.
This is a telling truth about what life with an electric car is really like for many owners, since statistically only around 3% of electric-car charging in the UK happens at public chargers. Even so, it was good to go to the IONITY chargers and test the Kia's charging potential except, somewhat ironically, it used so little juice on the way round the M25 and up the M1 that it was only just under 80% battery when I got there. All electric cars charge up slower in the last 20% of their battery capacity.
The Kia slowed to a 57kW charging rate towards the 80% mark, and then dropped again to 35kW after that, meaning the car estimated nearly an hour to suck the remaining life into its battery. A great example of why you should plan a long journey assuming an 80% charge at each stop, regardless of which electric car you're doing the trip in.
Even so, running the e-Niro since February has given me a platform to really appreciate the infrastructure's progress. If I'm sticking to main artery motorways, I don't bother to check on a map for chargers, I'm just assuming that the motorway services will have one and so far I haven't been let down. The biggest problems by far are the unreliable Ecotricity CCS points, the faff of all the various apps involved and the lack of cover to keep the rain off while you deal with aforementioned app faff. If we can sort all that in the future, we're onto a winner. Kia is certainly on to a winner with the e-Niro – it's just brilliant to drive and brilliant to live with. More on that in the next update which, sadly, will be the final report before it goes back.
Date: 2 September 2019Mileage: 10,401 milesAverage efficiency: 4.8 miles/kWh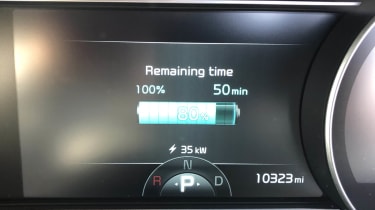 Report 5: A second opinion
With the e-Niro's regular custodian away on holiday, Group Web Editor Steve Walker took the opportunity to pounce on the keys and spent a couple of weeks seeing what all the fuss is about. If you've still got doubts about the viability of electric cars, the DrivingElectric 2019 Car of the Year could well be the model to extinguish them. Even putting the powertrain to one side for a moment, you've got a roomy compact SUV with space for adults in the rear and a respectable boot.
Perhaps the interior lacks a little of the polish and design flair you get in some other £33,000 cars, but the amount of equipment fitted to this First Edition model can't be faulted. There are some really well thought-out storage options, like the phone shelf positioned low at the base of the dashboard that keeps your USB cable out of the way, and the covered cup-holders in the centre console.
The e-Niro is brilliantly easy to use overall, and that's largely thanks to the electric powertrain. Amazingly, the 295 miles quoted by the dashboard display after a full charge turns out to be within a whisker of the truth, and the way the Kia goes about its business in town makes it a pleasure to use.
The real surprise for me, though, came on faster B-roads where the e-Niro can actually be good fun. We know electric cars are generally nippy, but the way the Kia steers and grips through a corner then squirts you up the road to the next is surprisingly enjoyable. The downside is the way the body tends to lean and pitch around the car's low centre of gravity, something you hardly notice in town or on the motorway, but the ride stays very smooth.
Enjoyable, practical and demanding so few of the compromises people imagine are involved in the switch to an electric car, the e-Niro is a fine piece of work from Kia. The little crossover is also probably a better standard-bearer for electric cars generally than lots of models costing twice the price.
Date: 23 July 2019Mileage: 8,352Average efficiency: 5.1 miles/kWh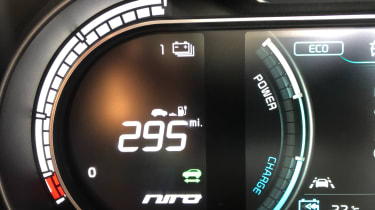 Report 4: Remarkable range
I really don't want to focus on range all the time when it comes to the Kia, yet I can't help but crow about how incredible it is. At the moment, even with air-conditioning on and normally with a bit of faster motorway or B-road involved in my routine journeys, I'm seeing 290 miles to a charge and efficiency of around 5.0 miles per kWh.
That's better than the Hyundai Kona and way better than a Nissan Leaf. It's genuinely proving to be the benchmark for real-world electric car efficiency. I even returned some 4.1 m/kWh on a clear 70-mile motorway run to Dorset recently, without changing my driving style at all. Impressive, given that most electric cars return more like 3.0 m/kWh on the motorway, where they're least efficient.
I did have some issues with the location mode, available in the charging settings. This allows you to set a particular address where you want the car to charge during off-peak charging times (you can ask it prioritise those times, or strictly only charge within those hours), which is great as I pay less between midnight and 5am at home, but anywhere else I just want the car to charge immediately.
However, initially the car failed to recognise when I was at the address I'd input and it took me a few days to figure out what the problem was. Clearing and re-inputting the address again seems to have solved it. Now I can just plug in at home, and the middle light of the three charging-indicator lights on the dash starts flashing to indicate that it's waiting for the preferred charging time. Perfect.  
I'd like to find some useful criticism to add here, but I really can't think of anything. The longer I spend with the Kia, the more it feels like a second- or third-generation electric car next to most of its rivals. It's just a cracking car on every front, and I'm already dreading the moment that Kia asks for it back. 
Date: 10 July 2019Mileage: 5,872 milesAverage efficiency: 4.9 miles/kWh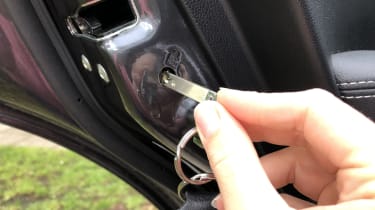 Report 3: Locking woes
The Kia is proving to be an absolutely brilliant family car, as well as a class-leading electric car. The interior plastics and materials are wearing very well and wipe up easily despite being under constant attack from a toddler and a big, unintentionally destructive dog.
My biggest gripe with its performance as a family motor is with the locking system. The child locks on the Kia are activated manually by sticking a key or screwdriver into the door and turning it to the lock position. The physical key tucked into the car's remote key fob does the job nicely.
This is fine, but I've had adult passengers locked in the back seats on a few occasions, and it seems foolish that Kia doesn't offer electronic child-locks, as Peugeot, Volkswagen and various others do. In these rivals, you just press a button in the front and the child locks in the back activate or de-activate. Simple, but brilliantly convenient. It should be standard on all five-door cars, I reckon. 
It's also frustrating that the passenger and rear doors don't automatically unlock when you turn the car off and get out of the driver's door. I've lost count of the number of times I've got out of the car and walked around to open the back door to get Flo (the aforementioned toddler) out, only to find the door locked. Anyway, eventually I though to check the car's system settings and sure enough – toggle through the menus on the driver's readout (only accessed via the steering-wheel switches) and you can set the doors to auto-unlock when you shift to 'P' or when you exit the car. Perfect. 
Date: 11 June 2019Mileage: 5,032 milesAverage efficiency: 4.3 miles/kWh
Report 2: Missing an app but gaining range
The e-Niro has been unflappably brilliant in its first few weeks. I love the serene way it drives, and it's also proving to be a pretty faultless family car. Not only that, but with sensible battery charging (keeping it between 20-80% where possible) and warmer ambient temperatures, the indicated maximum range has increased to 270 miles, and I'm routinely seeing average efficiency of more than 4.0 miles per kWh, even on motorway drives. I actually saw an average of 5.3 miles per kWh in a sedate, sunny drive over the weekend, which equates to a potential range of 339 miles – far surpassing the Kia's official WLTP range of 282 miles.
The only thing that has been bothering me is the lack of an app for the e-Niro. I drove the Kia Soul EV recently, which will get the company's new Connected Services app to allow you to set the climate control before you get in, check on charging status and various other useful functions. Sadly, it doesn't seem that it's being introduced on the e-Niro, which feels like a bit of a burn for those who've bought (or want to buy) the more practical of Kia's electric hatches.
Still, you can set the climate control to pre-heat the e-Niro via the car's settings, and of course you can set charging times to take advantage of off-peak tariffs, but it's not as convenient as being able to control all of it from your phone. It's about the only thing I can complain about, though, so life is still peachy. 
Date: 24 April 2019Mileage: 3,542 milesAverage efficiency: 4.1 miles/kWh
Report 1: Introducing our e-Niro
The Kia e-Niro feels like one of those cars that we'll be talking about forever more – destined to have its own blurb on timelines about the evolution of the car from here on in. But there are some questions we still want answered about the e-Niro; namely, what's it like to live with? Because it's all very well that it's won every award going, including DrivingElectric's own Car of the Year 2019, but what if it then turns out that a toddler can deconstruct the interior in six months, or that the DAB signal makes 6Music sound like Morse code, or that the windscreen takes an age to demist?
Any of that niggling stuff that can mount up to ruin the day-to-day experience of living with a car that, on a test drive, feels like the best thing for modern motoring convenience since power steering. That's what we're here to find out. Mind you, in the few weeks that we've had our e-Niro First Edition, it hasn't put a foot wrong. My only slight area of consternation is that the maximum range is currently showing as some 230-240 miles, which is less than I'd expected given that the pre-production test car we did a lot of miles in last year was managing more like 250-260, even in cold weather.
However, I'm optimistic that our long-termer might improve on this front, as I've done mostly fast motorway journeys since the car arrived and nothing ruins an electric car's range prediction like draining the battery repeatedly on the motorway. I'm back to normal now, which means mostly shorter local journeys, a few weekly trips into London proper (feeling smug about whirring past those Congestion Charge signs for free), and fairly regular weekend round trips of 150-200 miles to see family in Dorset. Given that I'm still likely to average some 800 miles or more per month, it's still heavy usage for the average electric car in today's climate.
I'm keen to see how this fairly typical lifestyle stacks up in terms of the car's range, and I also want to find out how a sensible approach to battery charging might impact the range. I have a 7kW wallbox at my house, where the vast majority of the charging will happen, and we know that keeping the 64kWh battery between 20-80% is best practice for the longevity and performance of the lithium-ion cells. I'll be keeping a close eye on how a period of rapid charging compared to a lot of slow charging might affect the car's range.
Not only that, but I have a two-year-old daughter and a big dog to ferry about (the husband gets a lift sometimes, too, if he's lucky), so we'll be putting the Kia's abilities as a family car, as well as an electric car, through a thorough test over the next six months. This, in particular, is where the spacious e-Niro seems to stand apart from the Hyundai Kona – a sister car to the Kia, which we're also running.