Jeep Renegade 4xe plug-in hybrid range, MPG, CO2 & charging
The Renegade's figures are respectable but some rivals beat it on paper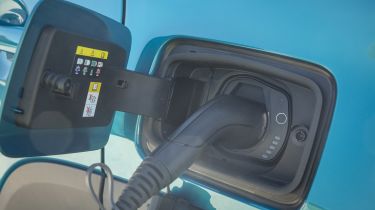 | Fuel economy | CO2 emissions | Electric range | Wallbox charge time |
| --- | --- | --- | --- |
| 123–134mpg | 47–53g/km | 26 miles | Under 2 hours (0-100%, 7.4kW) |
Plug-in hybrid SUVs are chosen primarily for their low CO2 figures, strong fuel economy and pure-electric range – so it's good news that the Jeep Renegade 4xe generally delivers well on all of these. Official figures come close to those of its closest rivals, but the more road-centric Kia Niro PHEV is still better on paper, boasting 30 miles of claimed range, 31g/km of CO2 and up to 202mpg. 
It seems that the Jeep's boxier styling and commitment to four-wheel drive have had an impact in this department, but real-world differences in fuel economy and electric range are yet to be assessed. Either way, getting as close as possible to the Jeep's official figures will depend heavily on judicious use of the accelerator pedal and a fully topped-up battery.
Jeep Renegade 4xe range, MPG & CO2 emissions
Emissions and economy sit at between 47–53g/km and 123–134mpg – a little below most of its competition. Pure-electric range is a claimed 25 miles and the Renegade can travel at speeds of up to 81mph before the engine needs to help out. 
Charge time
Jeep claims that a full charge via a 7.4kW wallbox will take less than two hours, while a 2.3kW charger will see the battery charge up in five hours. No official figure for charging via a three-pin socket has been provided, but expect this to have to take place overnight. The car also features a regenerative braking system which can be set to 'Intense' mode; this maximises on-the-move charging and increases retardation when you lift off the throttle.