MG4 EV vs Kia Niro EV: running costs and warranty
Both cars will be cheap to run, but a starting price of under £26,000 makes the MG4 the bargain of the year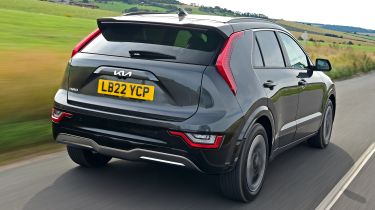 The MG4 is quite possibly the bargain of the year. Starting from under £26,00, it is the second cheapest electric car on sale at the moment, undercut only by the dinky Smart EQ ForTwo – a compromised two-seater with a painfully short range. Even the top-of-the-range MG4 Trophy we tested comes in under £32,000, which is thousands less than a base Kia Niro EV, let alone the near-£40,000 price tag of the mid-range model in our test.
MG is also one of the few manufacturers that comes close to matching Kia's industry-leading seven-year/100,000-mile warranty. The MG4 gets a seven-year/80,000-mile guarantee, plus one year of free breakdown cover – though the same is true for the Niro EV.
Generally, both cars will be cheap to run. Company-car drivers will love the 2% Benefit-in-Kind (BiK) tax rate that applies to the Kia and MG, as it means 20% earners need pay just over £100 a year in tax to run either model as tested. Both are also zero-rated for VED (road tax), as well as being exempt from the London Congestion Charge and other clean-air zone fees – at least for now.
Charging at home and on an energy tariff of 28p/kWh, it'll cost £1,600 to cover over 20,000 miles in the MG, but £1,436 for its Kia competitor due to its superior efficiency. 
They will both be more expensive insure than their petrol-powered equivalents, but the two versions of the Niro EV and MG4 we tested both land in insurance group 29.