MG4 EV vs Kia Niro EV: performance and handling
The MG4 is one of the most fun to drive electric cars we've tested in 2022, but still comfortable around town and cruising on the motorway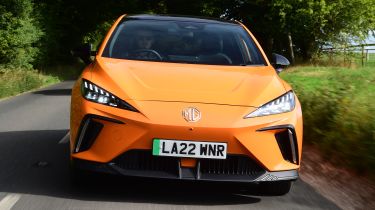 It might have its flaws, but the MG4 makes up for them when you get behind the wheel. Thanks to its soft and forgiving ride, the MG feels comfortable whether you're driving around town, on country roads or cruising on the motorway. At lower speeds it does tend to fidget a little than the Niro EV, but it's not a dealbreaker. 
Plus, the quick steering in the MG4 allows the family hatchback to dart through corners and overall it's pretty fun to drive. Because the steering is so light and direct it offers a nice sense of agility that's useful in town and on twister roads, too. And for a car of this size, it's easy to place, and visibility is pretty good, too. The car's turning circle is tight as well, which helps parking and manoeuvring in tight spots.
All this bodes well for the hot dual-motor MG4 due to arrive in 2023. This particular version is expected to produce close to 450bhp and go from 0-62mph in less than four seconds. But for now, the MG4 uses a single electric motor to power the rear wheels, and gets to 62mph in closer to eight seconds. Floor it from a standstill and the MG4 doesn't feel that fast, but power delivery from the electric motor is linear even up past 60mph. However, once you're on the move, hit the gas and you'll be surprised how fast the MG4 gains speed.
The Niro EV on the other hand prioritises comfort over handling or driver engagement, but that's hardly a bad thing. The ride is fairly soft, and the electric Niro feels a little more composed at lower speeds compared to the MG4. Refinement is more of a mixed bag: you hear less whine from the Niro's electric motor than you do in the MG, but there is a noticeable amount of road noise especially when cruising on the motorway. You feel more isolated in the MG4.
The Kia has five modes for the regenerative braking, including a one-pedal driving setting that's great when you're pottering around town. As well as more regen settings than the MG, the Niro also has steering wheel-mounted paddles, making it much easier to switch between modes to match your driving style and the prevailing conditions.
In the MG, the regeneration settings are buried within a sub-menu on the infotainment screen and the on-screen toggles for the different levels are quite small, so it can be hard to hit them while on the move. Alternatively, you can programme one of the star buttons on the MG4's steering wheel to adjust the regen strength, but you have to cycle through the different levels and the only indication you've changed settings is another very small icon on the MG's driver display.