MG4 EV vs Kia Niro EV: space and practicality
The Niro EV triumphs here thanks to its huge boot, handy frunk and spacious cabin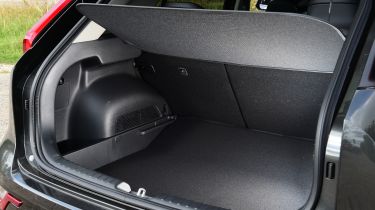 For an electric hatchback – and considering it's 81mm lower and 133mm shorter than the Niro EV – the MG4 is surprisingly spacious inside. Kneeroom is barely a fraction of a centimetre behind the Niro's, and headroom is nearly identical. The central hump in the floor is very low, and the middle seat is more comfortable than the Kia's. However, limited foot space beneath the front seats, a lack of a central armrest in the back, and awkward ISOFIX access (they're behind a velcro patch and within a tight recess) are small downsides for the MG's practicality score.
Interior storage is impressive at least. The centre console features a large but shallow storage area with a sliding lid, while underneath the armrest is a larger, deeper bin. Smaller trinkets can be secured using netting found inside. The door bins have space for bottles up front, and there's two cup holders underneath the gear selector, but the glovebox isn't the biggest. The smartphone tray isn't very deep, either, and because it's angled backwards it doesn't feel particularly secure.
But of course, because it's a little bigger, the Niro EV offers more cabin and boot space than the MG4. For starters, there's a generous 475 litres of boot space – 112 litres more than in the MG. That expands to 1,392 litres with the Kia's seats folded down – again, much more than the MG's 1,177 litres. Both cars do have false boot floors that create a level load lip when raised, but the Kia also gets 20 litres of additional storage under the bonnet, which is ideal for the charging cables.
There's lots of cubby spaces in the Niro EV, too. The deep smartphone tray is more than large enough to hold even the largest devices, while the central space can be used for general storage and features two cup holders which spring out at the push of a button. The door bins are quite slim, though, but with a felt lined bin under the armrest things like keys or coins won't drive you loopy by rattling around. 
The Kia's raised floor does force taller passengers sitting in the back to lift their thighs from the seat bases slightly, but there's plenty of head and kneeroom to accommodate a couple of six-footers. Rear occupants also get a set of air vents – which you won't find in the MG – plus a pair of USB-C ports to keep their devices topped up.