Hyundai Kona Hybrid MPG & CO2 emissions
Fuel economy from the Hyundai Kona Hybrid is good, but it's not quite the class leader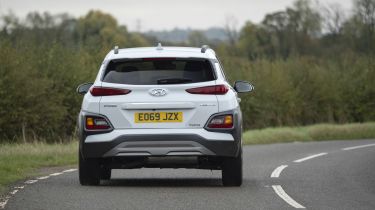 |  MPG (combined)  |  MPG (high)  |  MPG (low)  |  CO2  |
| --- | --- | --- | --- |
|  52-56mpg  |  59-63mpg  |  55-61mpg  |   114-123g/km  |
Powered by a 1.6-litre petrol engine and a 43bhp electric motor, the Kona Hybrid is reasonably competitive when it comes to fuel economy and CO2 emissions. The car's 1.56kWh battery collects energy harvested by a regenerative braking system, which converts kinetic energy into electricity when the car slows down.
It can also charge using power from the petrol engine, meaning it can travel short distances – usually no more than a mile or two – using electric power only, saving fuel while the engine is switched off. Unlike a plug-in hybrid, it isn't possible to charge the Kona Hybrid's battery by plugging in a cable.
Hyundai Kona Hybrid MPG & CO2 emissions
Officially, the Hyundai Kona Hybrid returns between 52 and 56mpg. This falls just shy of rivals like the Kia Niro (55-59mpg) and Toyota C-HR (57mpg), although it's still vastly better than what's achieved by the Honda CR-V Hybrid (38-41mpg).
Usually, you'd expect to see a little less efficiency in real-world driving conditions, but in this respect the Kona Hybrid performs well: we saw in excess of 50mpg on the motorway on a test route in the Netherlands, with as much as 59mpg indicated on slower rural roads. This bodes well for city driving, where the hybrid system and its modest electric range should push that figure even higher.
All in all, the Kona Hybrid should make your money go further at the forecourts. A full tank should give you well over 400 miles of range, with as much as 500 miles possible for frugal drivers.
The Kona Hybrid's CO2 emissions have been rated between 114 and 123g/km. Again, this can't quite match the Niro or C-HR, nor does it get you free entry to the London Congestion Charge zone.