Hyundai Kona Hybrid engines, drive & performance
The Hyundai Kona Hybrid is efficient, but it feels as slow as the performance figures suggest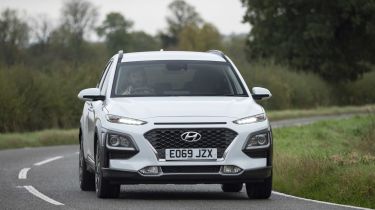 | 0-62mph | Top speed | Driven wheels | Power |
| --- | --- | --- | --- |
|  11.2-11.6s  |  115mph |  Front |  139bhp  |
The Hyundai Kona Hybrid is powered by a 1.6-litre petrol engine assisted by an electric motor. Together, they produce 139bhp, and while this seems like plenty on paper, in reality the Kona Hybrid is quite slow.
Hyundai Kona Hybrid 0-62mph, top speed and acceleration
Depending on which trim level you go for, the Kona Hybrid will do 0-62mph in between 11.2 and 11.6 seconds (the Premium and Premium SE are marginally slower due to their larger, 18-inch wheels). This is about the same as rivals like the Kia Niro and Toyota C-HR, while more expensive alternatives such as the Lexus NX 300h and Honda CR-V Hybrid are noticeably faster.
The Kona Hybrid is at its best when you're not in a hurry: ask for maximum acceleration and the six-speed automatic gearbox will – after a slight pause – kick down a couple of ratios to get you up to speed. This causes the engine to rev loudly and coarsely, and it sounds like the engine is having to work very hard for the little acceleration it can provide
Fortunately, once you're up to speed, the Kona Hybrid is very quiet; this is true on the motorway, on slower rural roads and when you're crawling along in traffic.
The electric running provided by the motor integrates seamlessly with the petrol engine, meaning you hardly ever notice the car switching between the two. The Kona Hybrid even boasts a clever system that'll analyse the route in your sat nav, allowing it to use the battery at the most efficient times. There's no 'EV mode' however, so how and when the electric power is used is entirely down to the car.
Handling
The handling is one of the Kona Hybrid's biggest shortfalls. It suffers from a lot of body lean when you turn into a corner, and while the steering wheel is very light, it doesn't feel very precise, and ultimately the Kona isn't much fun to drive.
It's also difficult to assess the ride quality: we were perfectly comfortable on our flat, smooth test route in the Netherlands, but we'll have to wait and see how the Kona Hybrid will fare on the UK's rougher road surfaces.