New Fiat 500 electric car: prices, spec and on-sale date
Fiat has confirmed that the new electric-only 500 city car will start from £19,995 in the UK, after the government plug-in car grant
The new electric-only Fiat 500 will cost less than £20,000 after the government plug-in car grant, it has been confirmed. Order books for the new zero-emissions city car will open in December 2020 and first deliveries will take place in March 2021.
The full range (detailed below) encompasses three trim levels and two battery sizes, ranging from £19,995 for the entry-level Action with a range of 115 miles, all the way to £26,995 for the range-topping La Prima, with a range of up to 199 miles. Prices for the convertible version run from £26,145 to £29,995.
Elsewhere, Fiat has announced an additional '3+1' version of the electric 500, with a small rear-hinged back door on one side only that gives easier access to the back seats. This version will initially be available in left-hand-drive markets only; it weighs just 30kg more than the standard car, but there's no impact on range.
Rivals for the new electric 500 include the Honda e, BMW i3 and MINI Electric, while the 500 convertible will go head-to-head with the Smart EQ ForTwo Cabrio. However, with a range of almost 200 miles, the Fiat should be more appealing to many prospective buyers. The new 500 is also more practical and features more on-board technology than its predecessor.
There will be no petrol-engined version of this third-generation Fiat 500, although the outgoing petrol model will continue to be sold alongside the new electric one for some time to come. A high-performance Abarth version of the electric 500 hasn't been ruled out, although there are no official plans for one at this stage.
New Fiat 500 electric: prices, specs, batteries, range and charging
The electric Fiat 500 range kicks off with the hatchback-only Action trim level, priced at an eye-catching £19,995 after the plug-in car grant. It comes with a 24kWh battery and a 94bhp electric motor for a top speed of 84mph. The 0-62mph sprint takes 9.5 seconds, while Fiat claims a driving range of 115 miles for this model; this should extend to around 150 miles when driven only at urban traffic speeds.
Standard kit on the Action includes safety technology such as driver drowsiness monitoring, automatic emergency braking, lane-keeping assistance and traffic-sign recognition. In place of a built-in infotainment system, it has a smartphone cradle and Bluetooth connectivity so owners can use their own phone apps for navigation and music playing – much like you would in a Volkswagen e-up!. Keyless go, rear parking sensors and a seven-inch digital instrument panel are all standard.
Above this sits the Passion trim, which opens up the option of hatchback (£23,495) or convertible (£26,145) bodystyles. It gets a larger 42kWh battery and more powerful 117bhp electric motor – a combination that reduces the 0-62mph time to nine seconds exactly, boosts top speed to 93mph and extends the maximum driving range to 199 miles.
Additional equipment on the Passion comprises a two-tone gloss finish for the wheels, LED daytime running lights, cruise control, climate control, a seven-inch touchscreen infotainment system with Apple CarPlay, Android Auto and voice control, plus a choice of dark or bright-coloured interior design themes.
Top of the regular range is Icon, priced at £24,995 as a hatchback or £27,645 as a convertible. It also uses the 42kWh battery and 87kW motor, a larger 10.25-inch dashboard screen, 16-inch alloy wheels, hands-free entry, a body-coloured dashboard and further interior styling touches.
There's also the limited-edition 'La Prima' launch model, which was the first to be announced. It gets the same 42kWh battery and 87kW motor combination and is priced at £26,995 for the hatchback and £29,995 for the convertible.
Every 500 comes with a 3kW easyWallbox home charger. Buyers can upgrade to a 7.4kW charger allowing for a full charge in just over six hours. For rapid charging at public stations, the entry-level Action with the 24kWh battery can charge at up to 50kW, which is sufficient for a 10-80% top-up in under half an hour. On models with the larger 42kWh battery, the fastest charging speed is 85kW, which will top you up to 80% in 35 minutes from a correspondingly fast public point.
On-board technology
The new pure-electric Fiat 500 gets a lot of new technology. The car can be operated in three driving modes: Normal, Range and the interestingly-titled Sherpa setting. The latter can adjust the car's maximum speed, throttle response and climate-control to maximise efficiency and range.
Normal mode is described as being 'as close as possible to driving a vehicle with a normal combustion engine', while Range mode allows for one-pedal operation and maximises regenerative braking.
Remarkably, in place of the usual synthesised noise required to alert pedestrians of the car's presence, the 500 plays music from the classic Italian film Amarcord, composed by Nino Rota. This feature, Fiat says, will be "available later" rather than included at launch.
The 'Level 2' autonomous equipment fitted to the new 500 includes adaptive cruise control, lane centring, road-sign recognition and a blind-spot warning system, plus a driver attention assist feature and 360-degree parking sensors.
Fiat has also fitted the 500 (in Passion trim and above) with its latest Uconnect 5 infotainment setup – an Android-based system displayed on a touchscreen. It features Android Auto and wireless Apple CarPlay connectivity, plus integration with a telematics box that can automatically call the emergency services, or be used to monitor the car (or control certain functions) remotely using a smartphone app.
Design
Although it's brand-new from the ground up, the chic supermini looks a lot like the old 500, with a familiar face and recognisable proportions. The differences between the convertible and hatchback are subtle – the latter swaps the sliding fabric top for a panoramic glass roof, while there's a new rear spoiler and a tweaked tailgate design.
Sleeker, more minimalist touches to the exterior and a much more luxurious interior are particular highlights, while a '500' badge now takes pride of place on the car's nose, highlighted in blue to signify the electrification underneath.
According to Fiat brand president Olivier Francois, the new electric 500 "has to bring new customers to the brand. The 500 has this power to pull new buyers coming from anywhere. I mean, people go from a Range Rover to a 500. They just want the thing, badly, because it's so cool. So we thought because of this power of attraction, we really had the duty to use this to attract people to electric."
Francois adds: "I think you're going to have a bit of a two-fold customer. On the one hand, you'll have people who are totally new to electric, who've never had an electric car. but who are passionate about the design, the coolness, the statement that the 500 makes about who you are.
"The other aspect will be the fanatics, who are not necessarily green. It's just people who want the 500, and they're very loyal. They have bought maybe two or three 500s over the past few years. And now, if they want the latest new car, they have to go electric as well. I think it'll be a mix of conquest and loyalty. But in both cases, our objective is the same: to convert drivers from petrol to electric."
Triple test: Fiat 500 vs MINI Electric vs Honda e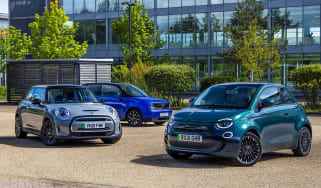 Triple test: Fiat 500 vs MINI Electric vs Honda e
Top 7 best hybrid and electric sports cars 2021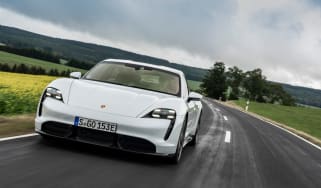 Top 7 best hybrid and electric sports cars 2021
Bringing thrills and performance with their powerful electric motors, these are the best electric and hybrid performance cars to buy in the UK in 2021
Are electric cars expensive to insure?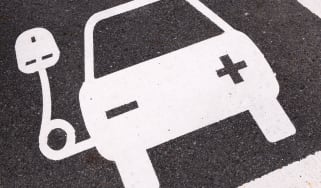 Are electric cars expensive to insure?
Everything you need to know about insuring an electric car, including how expensive it is and why
2021 Audi Q4 e-tron and Q4 e-tron Sportback: specs and prices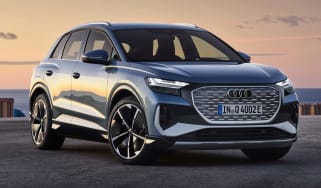 2021 Audi Q4 e-tron and Q4 e-tron Sportback: specs and prices
The pure-electric Audi Q4 e-tron and Q4 e-tron Sportback are on sale now, with prices starting from £40,750 for the regular SUV and £42,250 for the Sp…