New DS E-TENSE Performance hints at brand's electric future
DS pledges to launch only electric cars from 2024 as it unveils a prediction of "the high-performance electric car of tomorrow" utilising Formula E race car technology
This is the DS E-TENSE Performance: the latest electric concept car from Citroen's premium off-shoot, which incorporates technology and learnings from the company's nearly seven years in Formula E racing.
More specifically, both the E-TENSE Performance's carbon-fibre shell and electric powertrain have been taken directly from DS's single-seater race car. The zero-emissions coupe concept gets one electric motor on each axle, with a combined output of 804bhp and a garanutian 8,000Nm of torque. 
DS hasn't released any performance estimates for the E-TENSE Performance, but the French car maker has announced it will create a running prototype which will be tested by Formula E champions Jean Eric Vergne and Antonio Felix da Costa. 
Plus, with more power on tap than a second-generation Formula E car, the concept does have the potential to match the electric racer's performance, which can sprint from 0-62mph in under three seconds.
However, beyond out-right performance, the E-TENSE Performance also showcases new battery technology that the brand says opens us new possibilities for its future production EVs. The 'compact' unit is housed in a carbon-aluminium composite structure that's located just behind the centre of the car, and uses 'innovative' battery chemistry and a unique cooling system design. 
Meanwhile, the E-TENSE Performance's energy regeneration system is so powerful (with a maximum capacity of 600kW) that, according to DS, it's the only system used for slowing the electric coupe down. The car does retain a set of conventional brakes, too, but for use in emergency situations.
Although DS hasn't confirmed whether or not it'll make a two-door coupe like the E-TENSE Performance in the future, it does preview DS's new design language and some elements that may feature in the next-generation of its EVs. 
For example, in place of a grille, the E-TENSE Performance gets a new 'surface for expression' which is flanked by ultra-slim daytime running lights consisting of 800 individual LEDs. Elsewhere, there are typically wild concept car touches, like a 'Beetle-effect' paint job that shifts colour depending on the weather conditions – as well as the angle you're viewing the car from. The black bonnet and rear deck contrast with the bold paint job. 
The car also features 21-inch alloy wheels with aerodynamic inserts, as well as heavily sculpted body panels and a large rear diffuser. Inside, the bucket seats and steering wheel are also taken from a Formula E car.
DS has pledged that all models it launched from 2024 will be electric-only; the next of which is expected to be a zero-emissions version of the new DS 4 hatchback; electric variants of the closely related Peugeot 308 and Vauxhall Astra have already been confirmed.
DS's current line-up already includes plug-in hybrid versions of the DS 4, DS 7 SUV and DS 9 luxury saloon, as well as one pure-electric model: the DS 3 Crossback E-TENSE. 
Electric Renault 5: prices, 2024 launch date and teaser images of the MINI Cooper rival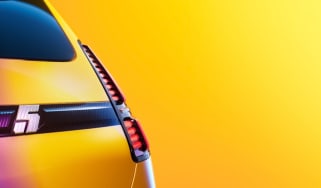 Electric Renault 5: prices, 2024 launch date and teaser images of the MINI Cooper rival
First contact: facelifted Kia EV6 will look even more like a UFO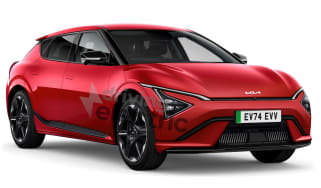 First contact: facelifted Kia EV6 will look even more like a UFO
Kia is readying an update for the EV6 crossover, which is set to include a new face and tech from the larger EV9
New Fisker Ocean Sport washes up in the UK: £36k for a 288-mile range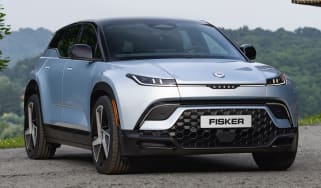 New Fisker Ocean Sport washes up in the UK: £36k for a 288-mile range
American EV startup Fisker has just launched its entry-level Ocean SUV in the UK, with a range of up to 288 miles
Electric Renault Twingo revealed as £17k rival to Citroen e-C3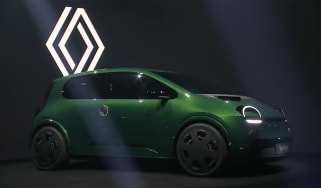 Electric Renault Twingo revealed as £17k rival to Citroen e-C3
Renault has unveiled its smallest EV yet; a sub £20k city car with a claimed high level of efficiency