Formula E 2021-22 season: calendar, teams, cars and drivers
Your guide to the cars, drivers and schedule of the 2021/22 Formula E season for electric racing cars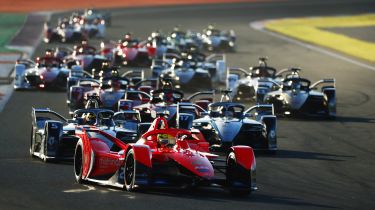 Now in its eighth season, Formula E is a single-seater racing series for electric-powered cars. It debuted in 2014 and its seasons run from late autumn to early summer, rather than within a calendar year like F1. The car chassis and battery are common across the whole grid, but teams can develop their own electric motor.
As every team is using the same battery with the same amount of energy, those who design a motor that makes the most efficient use of that energy tend to be the most competitive. This makes Formula E more directly relevant to electric road cars than F1 is to petrol road cars, leading to a host of car manufacturers – such as DS, Mercedes, Nissan, Jaguar, Porsche and (from next season) Maserati – getting involved.
The eighth season will be the final year of the series' current 'Gen2' machinery, before the more powerful and radically styled 'Gen3' car arrives for 2022-23. But there are still changes this time around. Following criticism of a qualifying system that too heavily penalised the championship leader going into each weekend, a new knockout formula has been introduced.
It sees the field divided into two groups of 11 drivers, who will battle to set  a time in a pair of 10-minute opening sessions. The fastest four from each group then progress to head-to-head duels to determine the top eight grid positions. It's hoped that the system will see the "cream rise to the top" more than before.
Until the end of season four, drivers pitted halfway through Formula E races to swap cars, but a larger battery in the second-generation version means they're now able to race for 45 minutes on a single charge. Strategy still needs to be employed to conserve and deploy energy at the right times, however.
Formula E calendar: season eight (2021/22)
Rather than using traditional motor-racing tracks, Formula E races take place on street circuits in major cities around the world. The full calendar for the 2021/22 season is as follows:
Rounds 1-2 - Ad Diriyah, Saudi Arabia - 28-29 January 2022
Round 3 - Mexico City, Mexico - 12 February 2022
Rounds 4-5 - Rome, Italy - 9-10 April 2022
Round 6 - Monte Carlo, Monaco - 30 April 2022
Rounds 7-8 - Berlin, Germany - 14-15 May 2022
Round 9 - Jakarta, Indonesia - 4 June 2022 
Round 10 - Vancouver, Canada - 2 July 2022
Rounds 11-12 - New York, USA - 16-17 July 2022
Rounds 13-14 - London, UK - 30-31 July 2022
Rounds 15-16 - Seoul, South Korea - 13-14 August 2022
Formula E teams and drivers: season eight (2021/22)
The Formula E grid is made up of 11 teams, with a 12th (Maserati) set to join for the ninth season in 2022/23. Each team runs two cars at every round. This season's line-up is as follows: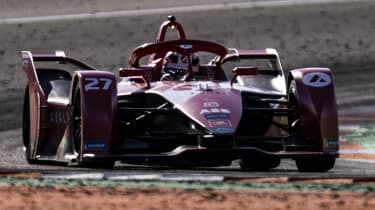 Andretti: Jake Dennis & Oliver Askew
Formerly the works BMW outfit, Andretti landed sponsorship from blockchain platform Avalanche in order to continue racing after the Munich brand wound up its effort at the end of last season. Key personnel from the BMW days, including team principal Roger Griffiths and race-winning driver Jake Dennis, remain. They should help former IndyCar driver Oliver Askew get up to speed quickly.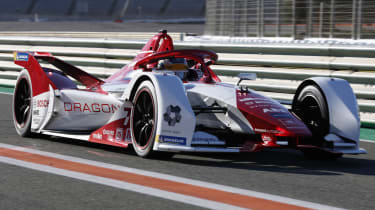 Dragon Penske: Antonio Giovinazzi & Sergio Sette Camara 
A team that has often struggled for pace and continuity in Formula E to date, Dragon finished second from bottom last season and is a curious choice for the former Alfa Romeo F1 man Antonio Giovinazzi to make his electric debut with. But a switch from building its own powertrains to becoming a customer team from 2023 onwards could give it a more stable base to begin moving up the grid.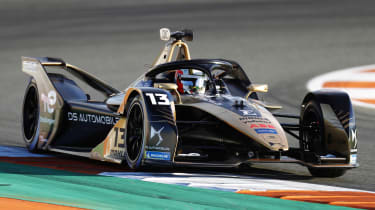 DS Techeetah: Jean-Eric Vergne & Antonio Felix da Costa
Team champion in both 2018-19 and 2019-20, DS was still a force to be reckoned with last year, finishing third in the table and scoring wins in Rome and Monaco. In da Costa and double champion Vergne, the French brand has two of the most experienced and consistent drivers on the Formula E grid, and this outfit's deep technical brains trust should see it figure out the new qualifying format quicker than most.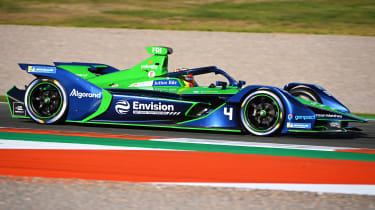 Envision: Robin Frijns & Nick Cassidy
Originally Virgin Racing, then known as Envision Virgin, this Silverstone-based team is now simply Envision Racing, after the Chinese energy company bought out Virgin's stake during the off-season. With the name change has come a distinctive new green colour scheme, but under the metal the proven Audi customer powertrain remains – and there are no weak links in the driver line-up, either.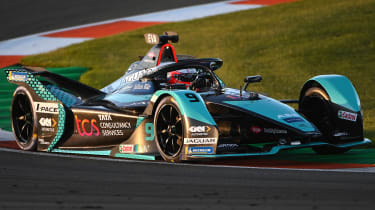 Jaguar: Sam Bird & Mitch Evans
Many in the paddock are tipping Jaguar as the pre-season favourite. Last year's runner-up performance, a confidence-boosting new multi-year deal for Sam Bird and the confirmation of a central role for the squad in the brand's shift to full electrification all bode well. Bird and his team-mate Mitch Evans also work well together; the only headache may come if they end up in an intra-team title battle.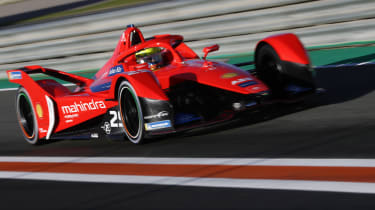 Mahindra: Oliver Rowland & Alexander Sims
Mahindra finished a disappointing ninth in the teams' table last season, although a home win for the now-departed Alex Lynn at the London ePrix gave some consolation. His place was taken by ex-Nissan man Oliver Rowland, forming an all-British line-up next to the highly experienced Alexander Sims. With a race in India on the cards for next year, they'll be focused on hauling the squad back up the grid in 2022.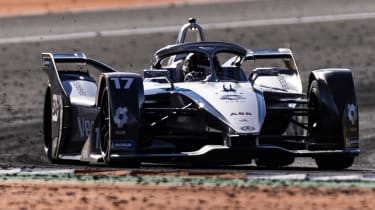 Mercedes: Nyck de Vries & Stoffel Vandoorne
Normally, the reigning champion enters the new racing season full  of swagger, but Mercedes' shine is dulled somewhat by the fact that its exit from Formula E at the end of this year has already been confirmed. Efforts are under way to find a new backer to take over the entry, but in the meantime, there's no reason to suspect 2020-21 champion de Vries and Rome victor Stoffel Vandoorne won't be at or near the sharp end.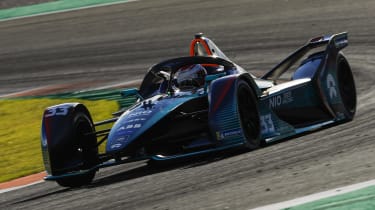 NIO 333: Oliver Turvey & Dan Ticktum
We're a long way (and one transfer of ownership) from the original incarnation of this team, NEXTEV, taking Nelson Piquet Jr to the inaugural drivers' title in 2014-15. Since then, it has consistently underperformed, and in 2020-21 propped up the points table in last place. Stalwart Turvey has always got the most possible out of the car, while Ticktum is looking for a reboot after his bid to reach F1 petered out.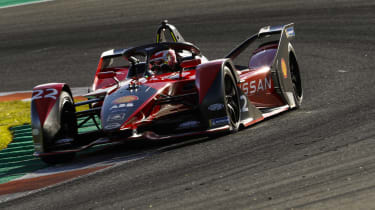 Nissan: Max Guenther & Sebastien Buemi
A triple title-winner when it raced as Renault, this team has so far failed to replicate that success for alliance partner Nissan. And it has work to do in 2022, after a 10th-place finish last season. There were just two podium appearances and no wins to show for its efforts. Buemi has been at the team since day one; the arrival of ex-BMW man Guenther will provide an interesting youthful foil for his experience.
Porsche: Andre Lotterer & Pascal Wehrlein
There were worries that Porsche could follow its compatriots BMW, Audi and Mercedes out of the door, but last March the Stuttgart brand signed up for the next-generation Formula E rules from 2023 onwards. It's sticking with known quantities in the cockpit: ex-F1 and DTM ace Wehrlein has the pace to be a title winner, but Lotterer's efforts have been underwhelming, in contrast to his imperious sportscar record.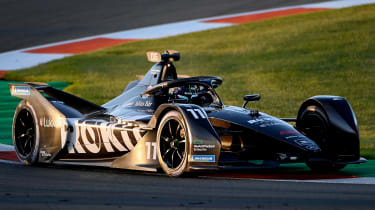 Venturi: Lucas di Grassi & Edoardo Mortara
Something of an also-ran in the early years of Formula E, Venturi has since sharpened up considerably, leaving its driver-swapping days behind, making former racer Jerome d'Ambrosio team principal and locking down ROKiT sponsorship. For 2022, it boasts arguably the best powertrain on the grid, in the shape of the Mercedes customer unit, plus two proven race winners at the wheel. It could be a real threat. 
DrivingElectric Awards 2024: the winners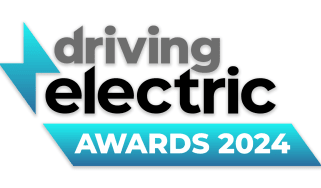 DrivingElectric Awards 2024: the winners
We celebrate the very best products in the EV world
Tesla Cybertruck: pricing and specs for Elon Musk's electric pickup truck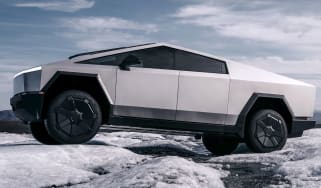 Tesla Cybertruck: pricing and specs for Elon Musk's electric pickup truck
The Tesla pickup truck is now on sale, with a range of up to 340 miles and a starting price of just over $60,000
MINI Cooper Electric: pricing and specs for British-built electric supermini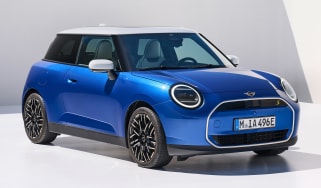 MINI Cooper Electric: pricing and specs for British-built electric supermini
MINI's latest electric hatchback introduces a revolutionary interior design, as well as larger batteries to provide a 250-mile range