Citroen Berlingo Electric (2013-2019) running costs
The Citroen Berlingo Electric is competitively priced, but doesn't have as many advanced features as rivals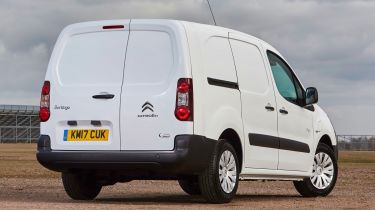 There are two Berlingo Electric models available, both in LX trim, which is the second of four specification level you can have on the diesel Berlingo van. The difference between the two models is body style, with the L1 version featuring a 3.3 cubic metre load area and a single sliding side door, while the L2 has a load volume of 3.7 cubic metres and double sliding doors.
The big benefit of electric vans is their low Benefit-in-Kind rates. All vans qualify for the same rate, which at the moment is around £2,000 less than for a diesel Berlingo. Changes in the rates will see this double by 2020, although that's still lower than a diesel van. As list prices don't climb beyond £40,000, the Berlingo Electric is road-tax-exempt; it also qualifies for exemption from the London Congestion Charge.
Citroen Berlingo Electric insurance group
A group 5 insurance rating is the same as for the Renault Kangoo Z.E. and lower than the rating for the Nissan e-NV200.
Warranty
The Berlingo Electric has the same Citroen warranty as the diesel Berlingo, so it's covered for three years/100,000 miles. It also has a five-year anti-perforation warranty to protect against any bodywork defects caused during production, and two-year paint cover.
In addition, the Berlingo Electric has a warranty of eight years/60,000 miles that covers the battery against malfunction. This is par for the course in the electric-van market, while Citroen also offers 12 months' roadside assistance.
Servicing
Citroen offers assorted service plans for its vans, which you can take out up to year after buying one. It offers options from one to five years and 10,000 to 100,000 miles, although you'd be going some to clock up that many miles in an electric van.
Road tax
The Berlingo Electric, like all electric vans, qualifies for zero road tax.
Depreciation
Very few Berlingo Electrics have been sold, which doesn't bode well for residual values. The van's relative scarcity, combined with its limited electric range and dated running gear mean it's unlikely to hold on to much of its price after three years, even compared to rivals.