Citroen Berlingo Electric (2013-2019) electric motor, drive & performance
It's fast enough in town, but you wouldn't want to drive the Citroen Berlingo Electric beyond city limits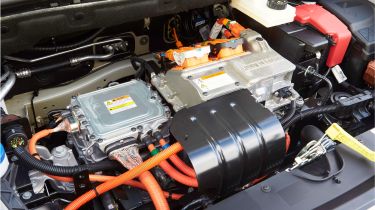 The Berlingo Electric has a conventional electric drivetrain, with the motor mounted in the nose driving the front wheels and the battery pack located at the rear axle where the diesel model's fuel tank would be. The set-up isn't the most powerful on sale, but you still get sprightly acceleration.
However, the Berlingo is an ageing design, and the extra weight of the batteries means it doesn't deliver sharp handling, even by electric-van standards. The optional steel bulkhead with glass window improves cruising comfort by isolating the driver's compartment from road noise coming from the load area.
Citroen Berlingo electric motor, 0-62mph and acceleration
The Berlingo's electric motor produces a modest 66bhp, which is around 10bhp down on the least powerful diesel Berlingo. However, what it lacks in outright horsepower it makes up for slightly in torque, so it still feels faster off the line than any of the diesel Berlingos.
Citroen doesn't quote a 0-62mph time for the Berlingo Electric, mainly because it runs out of puff at 68mph, so it'll take its time reaching that benchmark. Still, there's enough performance for urban use, and you may be surprised by the acceleration away from lights.
Handling
The extra weight of the Berlingo Electric's batteries mean it rides reasonably well at low speed, but that's about the only highlight of the driving experience. Vague steering and plenty of body lean stop you from pushing it harder than necessary.