Citroen Berlingo Electric (2013-2019) practicality & load space
The Citroen Berlingo Electric falls behind its van rivals for overall carrying capacity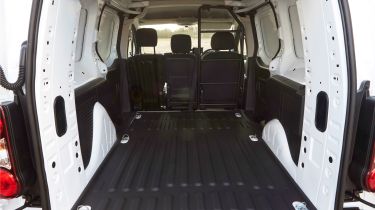 As well as having a snug three-abreast seating layout, the Berlingo Electric isn't a market leader for cargo volume or payload. There's 3.3 cubic metres of space in the back of the L1, which can be accessed by offset rear doors or a single sliding side door. The L2 has 3.7 cubic metres in the back courtesy of a longer overhang behind the rear wheels, while twin sliding side doors come with the offset back doors.
Citroen Berlingo Electric interior space, storage & comfort
While it's possible to sit three-abreast in the Berlingo, it's more comfortable as a two-seater, and you can fold the middle seat down to make a tray table if you want. In addition, the outer passenger seat folds down so you can carry long items (as long as you haven't added a bulkhead) and the base also flips up to offer another storage area separate from the load space.
Other storage points include three dashtop trays, a slim overhead tray, decent door bins and a disappointing glovebox – the latter is because the conversion from left to right-hand drive doesn't move the fuse box, which ends up cutting into the glovebox area.
Load space
Load volume isn't great, but there's room for two Euro pallets inside, and Citroen does at least include a plastic floor lining on the Berlingo Electric as standard. This helps prevent scratches and also gives an extra layer of protection between the load area and the electrical running gear underneath.
Payload weights are 636kg for the L1 and 552kg for the L2 – the latter being lower due to the weight of the extended body and additional side door. Those weights are lower than those of the standard Berlingo diesel, because some payload capacity is taken up by the extra weight of the battery pack – at 2,225kg, the Berlingo Electric L1 is almost 300kg heavier than the lightest diesel Berlingo, as well as being 200kg heavier than the Renault Kangoo Z.E.