BMW i8 Roadster (2018-2020) reliability & safety
The i8 Roadster mixes its advanced engineering to deliver strong reliability and safety with conventional technology where possible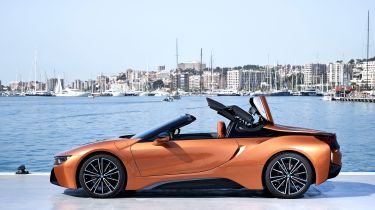 The BMW i8 Roadster mixes its advanced engineering with conventional technology where possible to deliver strong reliability and safety,  so that it's easier to get on with and simple to live with.
BMW i8 Roadster reliability & problems
Despite the i8's hi-tech nature, much of its parts are sourced from areas where they have already proved reliable (the engine is from a MINI, for example), while the more advanced areas such as the battery and electric motor haven't seen any reliability problems. While the 1.5-litre turbocharged petrol engine is producing more power than in other places where it's used, this is still well within the engine's parameters, as you'd expect. BMW didn't perform too well in our most recent Driver Power owner satisfaction survey, finishing in 27th place out of 30 brands.
Safety
Euro NCAP hasn't crash-tested the BMW i8 Roadster, but thanks to its strong carbon safety cell, the car should shrug off lower speed crashes. Although this is no assurance as each impact is different, it should be at least as good in a hit as more conventional rivals. There's lots of standard safety technology to stop things developing to that point. Stability control and ABS are included, which is good given the level of power on offer, while those £5,100 laser headlights we've already mentioned improve visibility at night.
BMW's Driving Assistant technology came as standard when the i8 was new; it brings Approach Control Warning to tell you you're speeding towards something in front too quickly, while high-beam assist that flicks the main beams on and off automatically and a rear-view camera are also included. Pedestrian detection for the autonomous emergency braking system helps, too, and for £85 you got an 'eDrive sound emitter' that warns people that you're moving when in towns and cities in near-silent eDrive mode.