BMW i8 Roadster (2018-2020) interior & comfort
The BMW i8 Roadster reflects its advanced approach with a good level of standard equipment, yet comfort isn't compromised too much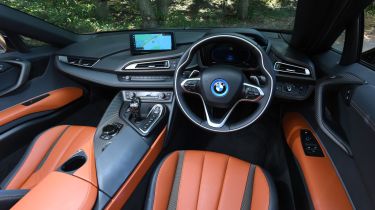 The BMW i8 Roadster retains the Coupe's scissor doors, and when you open them up there's a cabin that matches the price tag. The materials are environmentally friendly in places, but the important thing here is that the interior ambience rivals other cars costing this much and feels special.
BMW i8 Roadster dashboard
From the moment you drop behind the wheel, the i8 Roadster feels sporty. But while the driving position and interior layout might not look the most user friendly, it's actually fairly approachable, not too confusing and underpinned by sound ergonomics.
The infotainment and ventilation controls work with all the slick ease of any BMW's main systems. Everything is located on the main centrepiece of the dashboard and the console between the two seats where the gear lever is located. There's also an 8.8-inch infotainment screen controlled by the rotary iDrive controller behind the gear lever.
The driver's seat and steering wheel have a wide range of adjustment and the high-tech displays offer up plenty of info on the sportier elements of the car, as well as the more efficiency focused areas. A clear head-up display that shows sat-nav directions and other driving data helps as well. Material and build quality feel good, too, but this is what you'd expect from a car costing this much.
Equipment, options and accessories
There's was no large range of trim levels in the i8 Roadster line-up when new, but the car came well-equipped as standard. This included items you'd expect from a £100,000-plus vehicle, such as cruise and climate control, sat-nav, connected services and a great infotainment system that's ease to use and offers lots of functionality.
There were also front and rear parking sensors, LED headlights, electric heated front seats, DAB, Bluetooth, a Harman Kardon stereo (which actually wasn't as good as we'd expected) and a reversing camera that is a big help, as visibility is even worse than in the Coupe.
The i8 had a medium-sized options list when new, with some additions that should make living with the i8 Roadster even easier. These included exterior and interior trim and colour combinations, as well as items that matched with the i8's advanced approach, such as laser headlights for improved safety at night. These options had a big effect on the list price when new. 
Infotainment, apps & sat nav
BMW has years of experience when it comes to infotainment, having refined its once awkward iDrive system to the point where it's now pretty much the market leader. That's because it's so simple, easy and intuitive to use – even if it runs on a smaller screen than in the latest crop of BMW saloons.
The interface's graphics are sharp enough and it's in an easy-to-read place on the dash without hampering forward visibility, which is useful, as this isn't one of the i8 Roadster's strongest traits.
When the car was new it was a little disappointing that apps and tech many owners wanted were optional, such as Apple CarPlay, which cost £235. Otherwise, the navigation is simple to use and functionality such as the real-time traffic data and a charging-point finder are integrated well.