BMW i8 Roadster (2018-2020) range, MPG, CO2 & charging
With a respectable electric-only range, the BMW i8 Roadster gives flexibility most other convertible sports cars could only dream of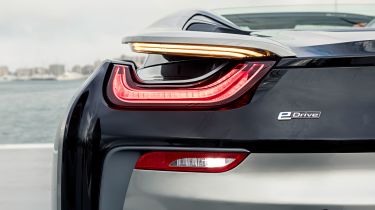 | Fuel economy | CO2 emissions | Electric range | Wallbox charge time |
| --- | --- | --- | --- |
| 128mpg | 50-51g/km | 23 miles | 3hrs (3.7kW) |
Like the Coupe, there's just one i8 Roadster model, but this heavier soft-top version isn't quite as efficient. But it's only marginal. The fuel economy and CO2 emissions are much better than any other drop-top sports machine, while range and recharging times are good.
BMW i8 Roadster range, MPG, CO2 and charging
No other convertible sports car can come close to the i8 Roadster's claimed fuel economy of 128mpg and CO2 emissions of just 50g/km, which are extremely impressive for any type of car, let alone one that boasts this level of performance. But that's only if you charge up as frequently as possible. Otherwise, the weighty battery and an electric motor aren't supplying any energy so the 1.5-litre petrol unit is doing all the work, which dents efficiency.
The battery pack will never be fully empty though, as when it gets low the car will adjust settings to charge the battery – either by using the engine as a generator or by turning energy that would otherwise be wasted when braking into electricity, using the front-mounted motor in reverse. Even if you totally ignore the i8 Roadster's plug-in potential, you'll still get around 40mpg average fuel economy, which is around double what you'll see in conventional rivals such as the Mercedes-AMG GT Roadster or the Jaguar F-Type Convertible.
The i8 Roadster was expensive when new, costing more than £100,000. It's way cheaper than premium convertible rivals thanks to relatively low CO2 emissions and fuel costs, with monthly costs more in keeping with a family hatchback than a top-end sports car.
Charge time
A five-metre long three-pin plug was standard and allows you to connect your i8 Roadster to the grid at a standard socket. Unlike with some premium plug-ins, a Type 2 cable for fast charging was also included as standard, but the drawback is that there's no dedicated home for the charging cables in the Roadster, so they reduce boot space further.
Using the former method of charging, it'll take less than four and a half hours to fully charge the 11.6kWh battery, while the Type 2 cable can handle faster charging. Plug in and use 3.6kW charging and the battery will be full in less than three hours, according to BMW.
As we've mentioned, if the battery gets low, it can be charged up on the move. In Sport mode more energy is forced into the battery than in Comfort or Eco Pro, while you can also hold the level of charge to use when you get to a low-emissions zone.