Audi Q4 e-tron Sportback review
Sleeker-looking Sportback variant of new Q4 e-tron electric SUV launches at the same time as the regular version – so is it worth considering?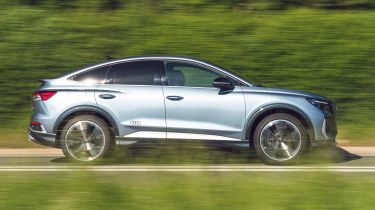 Pros
Great looks
Efficient and good to drive
Same drivetrains as regular Q4 e-tron
Cons
Reduced interior space
Some below-par fit and finish
More expensive than regular Q4 e-tron
| Model | Range | Wallbox charge time | Rapid charge time |
| --- | --- | --- | --- |
| 35 e-tron | TBC | 7hrs 30mins (0-100%, 7.4kW) | 38mins (5-80%, 100kW) |
| 40 e-tron | TBC | 7hrs 30mins (0-100%, 11kW) | 38mins (5-80%, 125kW) |
| 50 e-tron quattro | 309 miles (est) | 7hrs 30mins (0-100%, 11kW) | 38mins (5-80%, 125kW) |
Previously, Audi has introduced the coupe-like 'Sportback' variants of its cars a while after the standard version has gone on sale. So the Q3 Sportback appeared after the standard Q3, and there was a gap between the launch of the electric e-tron SUV and its Sportback variant, too.
Not so with the Q4 e-tron, which is launching simultaneously in standard and Sportback guises in the UK. It's a reflection of how important this car is for Audi; it's expected to become the German brand's second best-selling model overall in this country – electric or otherwise – behind only the A3 hatchback.
It's based on the same mechanical underpinnings as the Volkswagen ID.4 and Skoda Enyaq iV, and directly rivals the Mercedes EQA, Volvo XC40 Recharge, Ford Mustang Mach-E and Tesla Model Y in what's becoming a very busy part of the electric-car market. Audi reckons just over 15% of Q4 e-tron buyers will choose the Sportback rather than the regular car – not surprising when you consider that it's less practical than its sibling.
It is, however, promised to be more efficient thanks to that more aerodynamic roofline. Official range testing figures haven't yet been released, but Audi is confident the Q4 e-tron Sportback will eke a few more miles of range out of its battery than the standard Q4 e-tron, due to its ability to cut through the air more cleanly.
Size-wise, the Q4 e-tron Sportback is midway between the combustion-engined Q3 and Q5 Sportbacks, measuring 4.6 metres long in total. It's just 18mm lower than the regular Q4 e-tron at its tallest point, but there are significant differences towards the back: rear-seat passengers lose 24mm of headroom, although curiously there's a gain in boot capacity, which increases by 15 litres to 535 with the back seats in place. That 24mm headroom reduction really isn't all that bad, while knee and legroom are as impressive as they are in the regular Q4. Feet feel a bit more constricted, though, but there's at least a flat floor to ensure the middle seat is more useable than in petrol or diesel-engined SUVs.
Sit into the driver's seat of the Q4 e-tron Sportback and you immediately feel that you're in a more upmarket environment than what's offered in the ID.4 or Enyaq iV. The 11.6-inch screen (which Audi says is the largest and brightest it has ever used) is a real highlight, but there are still some telltale signs of cost-saving to be found, such as the preponderance of shiny black plastics across the door cards and large parts of the dash. Another downside of the Q4 e-tron's interior is that the swoopy roofline and high windowline that are so integral to its exterior styling also serve to make it feel a bit dark and confining inside. And the smaller rear window with its integrated spoiler does rearward visibility no favours, either.
We sampled the Q4 e-tron Sportback back with the range-topping '50 quattro' drivetrain. This consists of the larger 77kWh battery size and dual-motor setup, giving four-wheel drive and a total power output of 295bhp. It's the same powertrain you'll find in the hot 'GTX' version of the ID.4.
As in that car, only the rear motor is in action most of the time, with the front only coming on stream when full power is called for. That means range doesn't drop too much compared to the cheaper single-motor variants: Audi claims up to 309 miles on a charge for the Q4 e-tron Sportback 50 quattro, while 125kW rapid charging capability means a top-up to 80% battery capacity from almost empty is possible in less than 40 minutes.
Our time in the car suggested a real-world range closer to 250 miles should be consistently achievable, based on three miles per kWh reported efficiency in normal driving. Putting the car into its 'Dynamic' mode and driving hard will cause that potential range to tumble, however. At the other extreme, there's a 'B' mode that increases the strength of the regenerative braking effect – and thus the amount of energy returned to the battery when you slow down – with the aim of maximising possible range.
Performance-wise, the 50 quattro drivetrain gets you a 0-62mph time of 6.2 seconds, as well as strong acceleration from almost any speed thanks to its plentiful torque. There's a noticeable variation in how the car responds in its various driving modes, too, which isn't always the case in rivals, but even in 'Dynamic' it's perhaps not quite as rapid as some people might expect a range-topping all-wheel-drive electric car to be.
Efficiency or Comfort are the best picks if you're looking for a smooth ride, with the optional adaptive dampers at their most cushioning and keeping the Q4 e-tron Sportback's not-insignificant weight in check as you go around corners. The steering is also direct and fairly light, so overall the car is as pleasant to drive as we've previously found its VW Group stablemates to be.
Pretty much all of those driving impressions also apply to the standard Q4 e-tron, which is available with the same line-up of powertrains as the Sportback. So which one you go for will depend on your opinion of their looks – and whether you can put up with the slight reduction in interior space that picking the Sportback demands.