How long does it take to charge an electric car?
It can take anywhere from a few minutes to several days to charge an electric car, depending on how you do it. Here's why...
It's no secret that it takes a little longer to top up an electric car than a petrol or diesel-powered model. Even if you use one of the fastest ultra-rapid chargers around, it'll still take your average EV around half-an-hour, or possibly longer, to go from 10-80% charge.
It's not all doom and gloom though – that 10-80% top up represents hundreds of miles of added range you can put into your car in just a few minutes. Plus, if you don't plan on doing many journeys longer than your EV's maximum range, you're probably going to do the majority of your charging at home, overnight.
So, while there isn't one answer to the question 'how long does it takes to charge an electric car?', here we explain the main charging options at your disposal and the difference each one makes to the amount of time your car will need to spend plugged in.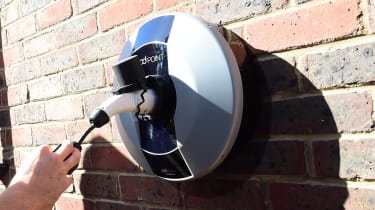 Home charging
The amount of time it takes to charge an electric depends on two factors: the speed of the charger you're using, which is measured in kW, and the size of the battery you're topping up, measured in kWh. A quick way to know how long it'll take to charge your electric car is to use the simple formula: total charging time = kWh ÷ kW. 
For example, if you're planning to fully replenish an EV with a 77kWh battery using a 7kW wallbox, that will take 11 hours. Some wallboxes are even faster though, capable of speeds up to 11kW or even 22kW, but these require three-phase electricity supply and are more expensive to buy.
Most home wallboxes or home chargers provide around 7kW, which is plenty to top up your average overnight. This is also the speed slower public charging points like those on London's streets will provide, which allows those without private parking or a driveway where they can install a wallbox to get an electric car.
It is true that you can charge an electric via a standard three-pin domestic socket, but these can only draw a maximum of 3kW, and some car manufacturers advise against using mains sockets for regular charging, as the high amperage drawn over such a long period of time can cause overheating of the socket. Therefore, we recommend consulting a qualified electrician if you're likely to regularly charge your electric vehicle from a standard mains socket, but a wallbox remains the better option for speed and reliability, if you can have one installed.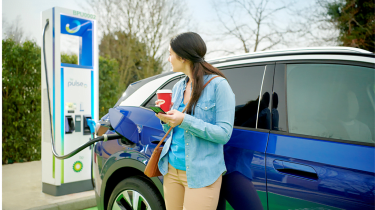 Public charging
The UK's network of public EV charging points has grown exponentially over the past few years. As of June 2022, there are more than 32,000 individual chargers across the country, and that figure is still climbing. There are several types of public chargers – fast, rapid and ultra-rapid – each capable of certain speeds.
Fast chargers are capable of speeds ranging from 7 to 22kW, and are ideal for overnight charging if you don't have your own wallbox, or topping up your car while shopping or at work. These usually don't have a cable built-in, so just be sure you've got your charging cable with you if you plan on using one.
Partnership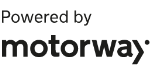 Need to sell your car?
Find your best offer from over 5,000+ dealers. It's that easy.
Then there's rapid and ultra-rapid chargers, which will reach speeds upwards of 50kW and 150kW respectively, with the absolute fastest ultra-rapid chargers out there right now providing 350kW. Using one of these chargers, a 10-80% top-up of your average EV will take just over half-an-hour, or just 20 minutes if you get one with the latest tech.
What's more, rapid chargers and ultra-rapid chargers are now much more commonplace, and you'll even find them in supermarket car parks, fast food restaurants and plenty of service stations. Dedicated EV charging hubs and forecourts featuring dozens of charging points are also being erected to service the thousands of EV drivers on British roads. If you're struggling to locate these types of chargers, apps like Zap-Map can help you find those near you or a destination, and show you what network runs them and the speeds they're capable of.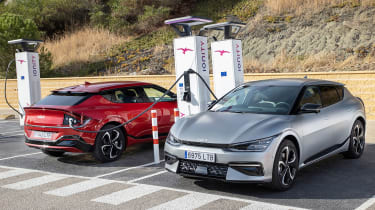 Rapid and ultra-rapid chargers have a built-in cable and feature two types of connector: CCS and CHAdeMO. The latter is much less common and is only found on some models like the Nissan Leaf, Kia Soul EV and Lexus UX 300e, while you'll find a CCS connector on most new electric cars. Plus, the fastest ultra-rapid chargers don't have a CHAdeMO cable, so just be aware.
It's also worth noting that because the charger you're using can reach 350kW, doesn't mean your battery will be topped up at that rate. One reason is your car might not be capable of charging that fast, so it's worth finding out the maximum charging speed of any EV you're looking at, especially if you do lots of long journeys and may need to use rapid chargers a far bit.
Finally, when using a rapid charger and you get to 80%, the rate of charge will start to slow down. This is to protect the health of the car's battery, so it's more efficient to stop charging at 80% and continue on your way, even if that means stopping for another charge later in your journey – only charge it to 100% when you really need to.
Comment: finance, funding and fuel prices means now's the best time to buy an EV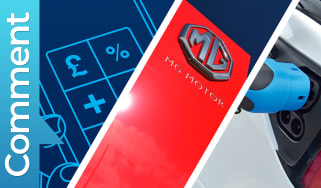 Comment: finance, funding and fuel prices means now's the best time to buy an EV
BMW i4 facelift to topple Tesla with huge range and tech upgrades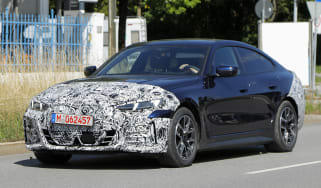 BMW i4 facelift to topple Tesla with huge range and tech upgrades
An updated version of the BMW i4 has been spotted testing, likely sporting a longer range and the latest technology
We've had a ride in the new electric MG Cyberster and it's NOT what we first thought…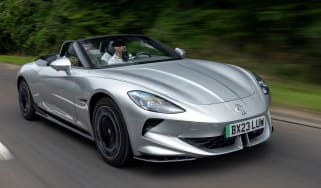 We've had a ride in the new electric MG Cyberster and it's NOT what we first thought…
The MG Cyberster is due to go on sale next year with up to 536bhp and scissor doors – and we've already had a ride in it